Bond 23 reportedly eying ND Studios in India for three-week shoot
Back in April, MI6 reported on rumours that the
Bond 23
production team were
eying parts of India as possible shooting locations
for Daniel Craig's third outing as 007.
Although the Indian tabloid press is even less reliable than their British counterparts (which is no mean feat),
Mid-Day
reports today on a lot of detail about the pre-production plans they claim are being finalised.
According to the paper, EON Productions are concluding a deal to shoot for three weeks at the sprawling Big ND Studio located in Karjay, near Mumbai. The gigantic outdoor studio replicates city street scenes from Mumbai (formerly Bombay), much like the major Hollywood backlots have lookalikes for common locations such as Manhattan.
The smash-hit "Slumdog Millionaire" filmed scenes at the studios in 2008. Recently, 20th Century Fox signed a 10-year deal to hire facilities. Disney are also said to be in talks to shoot a major production there.
"In the ND Studio, South Mumbai setting of the main road with shops... will be expanded to include the historic Chhatrapati Shivaji Maharaj Terminus and Crawford Market, too," revealed their source. They go on to say that "a reliable source revealed that [the film] would start off with an explosive chase scene set in South Mumbai."
Sources go on to say that they expect Bond crew to be onsite two months ahead of the three-week shooting schedule in order to prepare for the stunt sequences.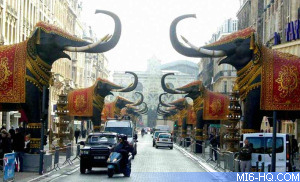 Big ND Studio Features:
- Two sound-proof air-conditioned floors
- Permanent sets of 1600 feet of Bombay town square
- Red Fort and Jaipur Fort
- Make-up rooms, chalets and accommodation for the stars and crew.
- Corporate offices
- Helipad
Discuss this news here...