Swiss artist to display gold Aston Martin DB5 sculpture at 2011 Pebble Beach Concours d'Elegance
Press Release - Artist and creator Dante will display a limited-edition 24-karat Aston Martin DB5 sculpture during the Pebble Beach Concours d'Elegance August 18-21, 2011. "With this piece, I hope to capture the imagination of art collectors and classic car enthusiasts in the same way the actual Aston Martin captured the hearts of James Bond fans worldwide," said Dante.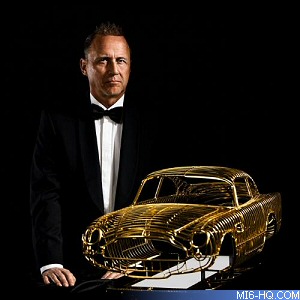 In 2010, Sir Roger Moore joined Dante at the Top Marques event in Monaco to unveil a second sculpture in his Iconic Sports Car series: the legendary Aston Martin DB5. The exploits of agent 007 and his gadget-laden car produced a world of avid James Bond fans, following the release of the 1964 film Goldfinger. "I was flattered to have Sir Roger Moore unveil this piece to the world," said the artist. "His reaction when he unveiled my 24-karat interpretation of this great car confirmed to me that I have succeeded in creating art that brings people great pleasure."
Dante's works of art have been exhibited in glamorous and exotic locations such as Cannes, Florence, London and Miami and the premiers have attracted a host of royalty and celebrities. "It is fitting my newest sculpture be unveiled during a week that gathers the most significant automobile collectors and designers in the world, and during the event which is the greatest expression of class and elegance: the Pebble Beach Concours d'Elegance," he said. The name of the individual who will unveil the Ferrari 250 GTO has not been revealed.
Discuss this news here...