Activision cool talk of Raven developed Bond game, push Eurocom
James Bond videogame licence-holder Activision, who released "Blood Stone" and "GoldenEye" last year, have poured cold water on rumours that Raven Software are developing a 007 title.
James Steer, Activision's producer of this autumn's PlayStation 3 and Xbox 360 game
GoldenEye 007: Reloaded"
, told
Eurogamer
at a preview event in London last week: "We're focusing on Eurocom. Eurocom is our Bond developer. GoldenEye Reloaded is for this year. Next year is 50 years of Bond. And obviously they're making a new movie. This is unrelated. This is about GoldenEye."
This despite
online leaks of video and screenshots of the Raven developed 007 title that had been a work-in-progress for 20 months
. Raven were even acknowledged in the "Blood Stone" credits.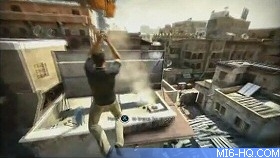 Work on the title at Raven was rumoured to have restarted after the MGM financial debacle cleared up, but as sales of "Blood Stone" failed to meet even the lowest expectations, some suspect that Raven's game has been put on ice indefinitely due to its close similarities. But don't be surprised if the Raven game eventually emerges once "GoldenEye: Reloaded" has cleared the shelves.
Thanks to `SharkBait ` for the alert.
Discuss this news here...