'Cinema Sex Sirens' available for pre-order from Amazon
'Cinema Reto' editors Dave Worrall and Lee Pfeiffer's gallery illustrates a luminous collection of idealized women and offers a fascinating insight into the movies' depiction of female sexuality during the '60s and '70s. It pays tribute to a selection of the early James Bond girls, including Luciana Paluzzi, Ursula Andress, Jill St. John, Valerie Leon and Caroline Munro.
The 160 page volume boasts 300+ photograph with chapters on:
Hollywood Or Bust: The Early Years
...And God Created the Sex Symbol
The Russ Meyer Ladies
The Women of Blaxploitation
The Continentals
Made In England: Brit Glamour
Drive-In Gals
Sex Sells: The Art of the Movie Poster (rare examples of exploitation movie art)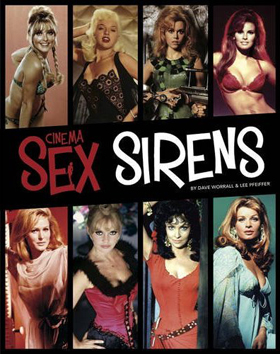 The book is slated for release on 3rd October and fans can
pre-order copies today via Amazon.co.uk
.
Discuss this news here...