MI6 Confidential magazine announces global readership of James Bond fans
Press Release
MI6 Confidential
is proud to announce that the magazine is now read in over 40 countries across the globe, proving that James Bond fandom knows no borders!
Since its initial conception in 2007, MI6 Confidential has already clocked up 10 issues featuring interviews with 007 stars Daniel Craig and Sir Roger Moore, dozens of Bond Girls (including a special devoted just to the leading ladies), and countless other Bond alumni from the films, books and games. Packed with rare photographs and behind the scenes photos, it has quickly become a leading publication with thousands or readers worldwide.
Editor Hugh Maddocks said, "With Bond 23 and the 50th anniversary in 2012, I'm pleased to say that we have some very special features and issues lined up for what is sure to be a great year for fans. As with all things Bond, plans have to remain top-secret for now, but teasers will be posted on our Facebook and Twitter feeds soon."
Issue #11 is due out later this month.
The current issue, featuring a behind-the-scenes look at the production of "Casino Royale", is
on sale now.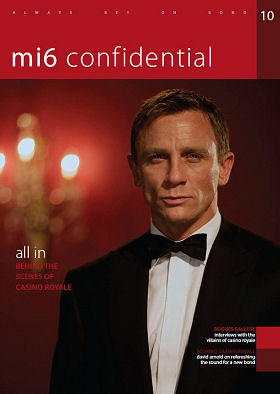 Discuss this news here...