Rosamund Pike reflects on her career thanks to James Bond
Rosamund Pike was
not a big fan of her James Bond fame
for a while after she starred in "Die Another Day", but the English actress seems to have come to terms with her Bond Girl status and how her outing with 007 has helped propel her career - quite the opposite effect that the role is often stereotyped with.
Just 23 years old when she was thrust in to the global spotlight as
Miranda Frost
in the 2002 movie "Die Another Day", Pike told The Guardian how it was a difficult time. "I was really confused," she says, "because I thought people have given me this part as a Bond Girl, and if I turn up as the real me everyone's going to be crushingly disappointed because I don't look anything like her. So I focused on the need to look like her, and to live up to this image that had been foisted on me."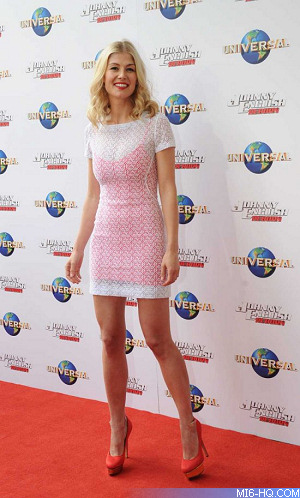 Her Bond Girl heritage almost stopped her taking her latest role as the female foil of Johnny English in the new "Reborn" movie. "I thought, well, I've spent eight years dismantling the Bond Girl image, so do I want to go back and tread that sort of territory again? And also if it's going to be a big piss-take, maybe that's not a very cool thing to do – I basically owe a whole career to a James Bond film. But I read the script, and it made me laugh, in spite of myself."
Click here to read the entire interview (The Guardian)
.
Discuss this news here...