Factory Entertainment reduces price of Solitaire's Tarot Card replicas
This beautiful 1:1 scale replica of Solitaire's prop tarot cards, officially licensed by Danjaq LLC and EON Productions, has been created after meticulous study and research of the original props in the EON archives as well as interviews with original cast and crew. The original prop cards were hand-crafted for the production and had deteriorated and faded somewhat with the passage of time. We have meticulously copied and digitally restored each original prop card to accurately replicate it as seen on screen, including all the subtle variances that are present in hand made work. Each card has been printed onto ultra-heavy weight 400 pt stock and features the striking stylized red '007' repeating pattern seen in the film on the reverse.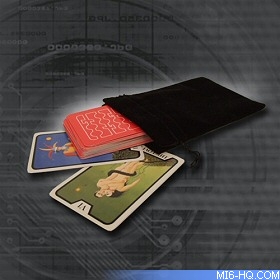 The team behind Factory Entertainment are currently offering a special price for the fantastic set of cards - order today and save $9 US.
Order Now (Worldwide)
Discuss this news here...