Daniel Craig rips in to Kardashian fame whores
James Bond actor Daniel Craig, who keeps his private life well away from the tabloids as much as possible, has criticised those who sell their off-camera life to improve their celebrity.
Craig, who managed to keep his marriage to Rachel Weisz under wraps in the summer, told the January edition of GQ magazine: 'I think there's a lot to be said for keeping your own counsel. It's not about being afraid to be public with your emotions or about who you are and what you stand for. But if you sell it off it's gone. 'You can't buy it back - you can't buy your privacy back. Ooh I want to be alone. Fuck you. We've been in your living room. We were at your birth. You filmed it for us and showed us the placenta and now you want some privacy?"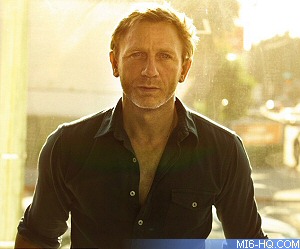 "'Look at the Kardashians, they're worth millions. I don't think they were that badly off to begin with but now look at them. You see that and you think "what, you mean all I have to do is behave like a fucking idiot on television and then you'll pay me millions". I'm not judging it - well, I am obviously."
On the subject of his private wedding, Craig said: "We got away with it. We did it privately and I've got a lot of people to thank for that. But that was the point, we did it for private reasons. Because we didn't want it fucked up, because that would be sharing a secret. And the whole point is that it was a secret. A secret is a secret in my mind. I'm in love. I'm very happy. And that is as far as I'm prepared to go. Life is long, life goes wrong and I don't want to say something now that might be thrown back later."
The full interview appears in the January issue of British GQ magazine, out now.
Thanks to `forgotmyusername ` for the alert.
Discuss this news here...