UK TV - 'Casino Royale' (1967) on ITV4, Saturday lunchtime
Movie:
Casino Royale (1967)
Channel: ITV4
Date: Saturday, 17th December 2011
Time: 12:30 GMT
A satirical romp through the spy-fi genre begins as legendary spy Sir James Bond is coaxed out of retirement to take on SMERSH. With M dead in a fantastical explosion Sir James becomes head of MI6 and leads a squad of "James Bonds" to all fight crime in his name. One is Evelyn Tremble, recruited as one of the many 007s and tasked to face SMERSH agent Le Chiffre at the baccarat table. (Spoof)
Starring: Peter Sellers, Ursula Andress, David Niven, Orson Wells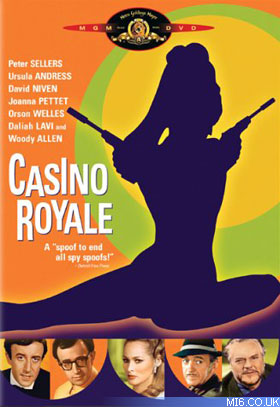 "Casino Royale" (1967) - MI6 Dossier
Thanks to `Samuel001` for the alert.
Discuss this news here...