Fourth annual James Bond film festival held in Ottawa this month
Event: James Bond Film Festival
Location: Mayfair Theatre, Ottawa, Canada
Date: January 8th 2012 - January 31st 2012
007 returns to the big screen in Canada's Capital with the Mayfair Theatre's fourth annual James Bond festival.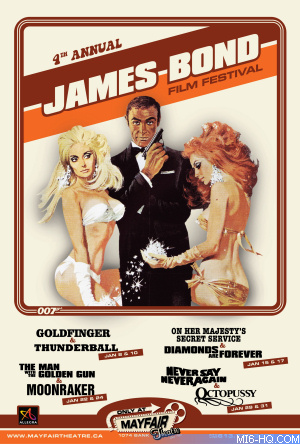 Known as Ottawa's home of stuff you won't see anywhere else, the Mayfair, located on Bank Street (south of the Canadian Parliament) is Ottawa's oldest theatre. Opened in 1932 it currently screens anything from independent films, to classics and current releases which are no longer screening at nearby megaplexes. The theatre's age adds charm to any movie goers experience. The ornate columns and balconies add nostalgia and the select areas with couches instead of theatre seats give a sense home style comfort for families and friends.
Now that James Bond returns, Bond fans in the area can experience a classic double-oh double bill that will restore the golden James Bond cinema days.
January 8th & 10th
Goldfinger & Thunderball
January 15th & 17th
O.H.M.S.S. & Diamonds Are Forever
January 22nd & 24th
The Man With The Golden Gun & Moonraker
January 29th & 31st
Never Say Never Again & Octopussy
Thanks to `Greg M` for the alert.
Discuss this news here...