Bankrupt Saab call in the receivers, Gardner's 007 car up for auction
Bankrupt car manufacturer Saab is calling in the receivers to liquidate all assets, and that means selling off their entire museum collection of vehicles.
While the Swedish company is known for reliable cars worldwide, it is also known to James Bond fans as the marque of choice for author John Gardner in his 007 continuation novels.
The car was dubbed the "silver beast"
.
A 1981 Saab Turbo 900 (chassis number #17901) custom-equipped for the fictional British agent with bullet-proof windows and tires, tear-gas ducts and a "SAAB 007" license plate is amongst the 131 vehicles going under the hammer this Friday.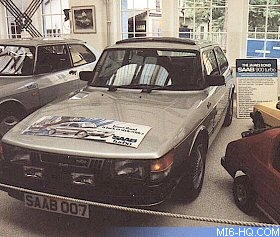 Although all the gadgetry is in place, the car is not drivable let alone road legal in Sweden.
Peter Backstrom, director of the museum in Trollhatten, said the collection is now closed except to serious bidders.
Discuss this news here...