| | |
| --- | --- |
| | MI6 reports from the launch event and first playtest of "007 Legends", released this week in the US and UK... |
007 Legends Playtest Report
18th October 2012
To celebrate the fiftieth anniversary of the James Bond film series, EON Productions, in partnership with Activision and Eurocom, released the hotly anticipated 007 Legends video game at BAFTA, yesterday.

Amongst those in attendance were the lovely Keeley Hawes, who played Zoe Reynolds in Spooks, singer Sophie Ellis-Bextor, and television presenter George Lamb.

Guests were invited to a special viewing of the recently released James Bond documentary, "Everything Or Nothing", before getting to grips with the game itself.


Above: Keeley Hawes and George Lamb.

In terms of James Bond games, "007 Legends" is a something of a unique proposition in that it features six missions inspired by previous James Bond films, which tie together to form a single, over-arching narrative. A film from each of the six Bond actor's tenures have been chosen for the game, including: "Goldfinger"; "On Her Majesty's Secret Service"; "Moonraker"; "Licence To Kill", and "Die Another Day". A sixth mission, based on the soon to be released "Skyfall", will be available as downloadable content, which will complete the game's story arc.
The storyline itself has been co-written by veteran Bond writer Bruce Feirstein alongside Eurocom's Rob Matthews. Feirstein, who worked as a writer on the Pierce Brosnan films from "GoldenEye" to "The World Is Not Enough", also wrote the video games "Everything Or Nothing", "From Russia With Love", "Bloodstone" and the recent re-release of "GoldenEye 007". As with 'GoldenEye 007", "007 Legends" missions have been inspired by the films on which they are based, but have been updated and modernised in order to incorporate the current 007 Daniel Craig as James Bond, and to enable each of the missions to tie together.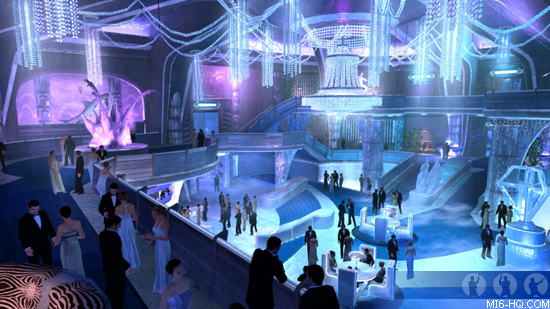 Above: Bond enters the "Die Another Day" ice palace.
The game certainly looks stunning, with crisp, clear graphics that run at 60 frames-per-second. The environments look superb - each modeled on familiar Bond locations that have been expanded to create a deeper sense of immersion in the game.
An array of gadgets, weapons and vehicles feature in "007 Legends", whilst the game itself promises to be a blend of all out action and stealth. The gameplay itself will be familiar to those who are used to playing the "Call of Duty" games, and features elements such as objective markers, as well as damage and grenade indicators.
The game also incorporates an online and split-screen multiplayer mode, with up to 12-players for online play and a 4-player split-screen if you prefer to challenge your friends at home.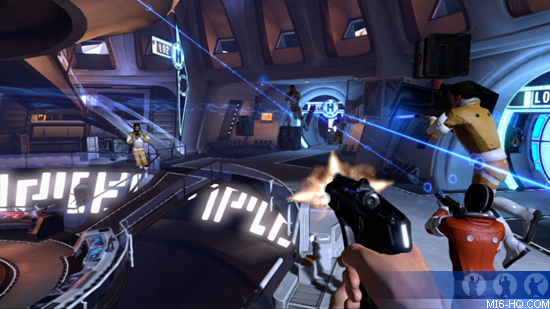 Above: The reimagined "Moonraker" laser battle.
Overall, the game certainly looks very good and any doubts that may persist are soon swept away as you circle above Piz Gloria in your helicopter and start to engage SPECTRE's orange-suited henchman. Surely, for Bond fans, this moment truly is legendary.
Many thanks to Ben Williams.