Author:
Jeffery Deaver
Published:
26th May 2011 (UK)
14th June 2011 (USA)
MI6 Rating:

Data Stream

| | |
| --- | --- |
| Villains: | Severan Hydt, Naill Dunne |
| Plot: | With few leads and time running out, Bond must prevent the mysterious "Incident 20" from occurring and save the lives of thousands of innocent people. |
| Bond Girls: | Philly Maidstone, Bheka Jaordaan, Felicity Willing |
| Allies: | M, Felix Leiter, Q, Rene Mathis, Gregory Lamb |
| Locations: | Novi Sad, Serbia; London, UK; Dubai, UAE; Capetown, South Africa |
| Highlights: | The Red Danube; Death in the Sand; Down to Gehenna |
Briefing
Carte Blanche is written by best selling thriller novelist Jeffery Deaver and takes place in the present day over a short period of time, and sees Bond visit three or four exotic locations around the globe, one of which is Dubai.
It will be published by Hodder & Stoughton on 26th May 2011 (the week of Ian Fleming's birthday). In the USA, Carte Blanche will be published by Simon & Schuster a few weeks later on 14th June 2011.
Official Book Description (Penguin)
James Bond, in his early thirties and already a veteran of the Afghan War, has been recruited to a new organization. Conceived in the post-9/11 world, it operates independent of MI5, MI6 and the Ministry of Defense, its very existence deniable. Its aim: To protect the Realm, by any means necessary.
A Night Action alert calls James Bond away from dinner with a beautiful woman. Headquarters has decrypted an electronic whisper about an attack scheduled for later in the week: Casualties estimated in the thousands, British interests adversely affected. And Agent 007 has been given carte blanche.
Jeffery Deaver on Bond
"In the world of espionage, giving an agent carte blanche on a mission comes with an enormous amount of trust and constantly tests both personal and professional judgement. Part of the nonstop suspense in the novel is the looming question of what is acceptable in matters of national and international security. Are there lines that even James Bond should not cross? The novel will maintain the persona of James Bond as Fleming created him and the unique tone the author brought to his books, while incorporating my literary trademarks: detailed research, fast pacing and surprise twists."
About the Author
Jeffery Deaver is the author of a number of internationally bestselling crime series. He is best known for his Kathryn Dance and Lincoln Rhyme books, most notably The Bone Collector, which was adapted for film in 1999, starring Denzel Washington and Angelina Jolie.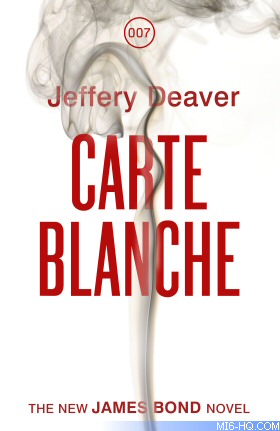 Above: 1st edition Hodder & Stoughton hardback

Order Hardback - Amazon UK
"Ah, the Bentley Continental GT coupe ...the finest off-the-peg vehicle in the world, Bond believed. He had always loved the marque; his father had kept hundreds of old newspaper photos of the famed Bentley brothers and their creations leaving Bugattis and the rest of the field in the dust at Le Mans in the 1920s and 1930s."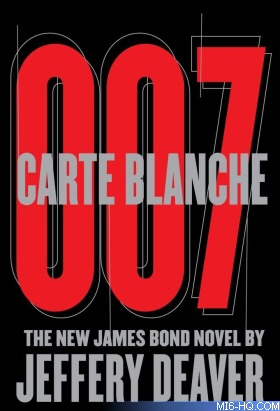 Above: 1st edition Simon & Schuster hardback

Order Hardback - USA