Gregg Beam (David Harbour)
Datastream
Character: Gregg Beam
Movie: Quantum of Solace
Status: Discharged from Service
Actor: David Harbour
Date of Birth: 1975
Height: CLASSIFIED
Place of Birth: New York, USA

"Yeah, you're right, we should only deal with nice people."

Pleased to Meet You
Whilst 007 and Beam never formally meet, the CIA agent is first involved in the "Quantum of Solace" mission when he receives a high-priority call from MI6 chief M.
Personality
A devious employee of the CIA, Gregg Beam is the head of South American relations for the US Intelligence Agency. He is a shrewd and sarcastic man but well adapt to playing the power game and rising to a position of authority. He is prepared to bend the rules in order to further the interests of the US government's quest for resources, even if that means throwing a few MI6 agents under the bus.
Involvement
M is directed to Beam when she uses the special relationship to delve into the background of Dominic Greene. He denies any interest, but the mere act of routing M's call to a section head gives MI6 tells MI6 everything they need to know. Meanwhile, Beam in a meeting with Greene, cutting a deal for the resources that the eco-villain may unearth in the deserts of Bolivia. Keen not to let the British spoil his deal, Beam tasks Felix Leiter to reign in 007, before gets too close to the truth. Beam later accompanies Leiter into the field, where the pair are tasked to 'look the other way' whilst Greene assists in a military coup in Bolivia. He is later discharged from the CIA and Felix Leiter is promoted.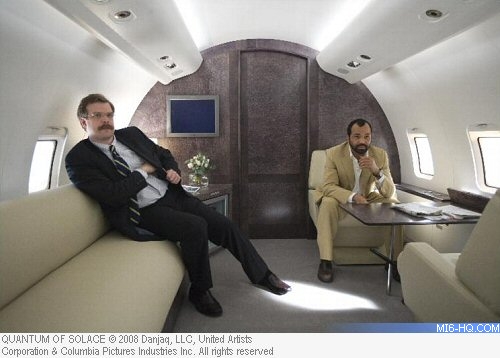 Biography
David Harbour attended Byram Hills High School in Armonk, New York, and from an early age had a passion to become an entertainer. Harbour made his on-stage debut in the 1995 production of "The Rainmaker" - along side Woody Harrelson and Jayne Atkinson. By 2002, Harbour had a carved out a name for himself on Broadway, culminating in his Tony nominated performance in "Whose Afraid of Virginia Woolf?" - the Edward Elbee play.
His on-screen career launched with a series of bit parts in US dramas, "Law & Order" and "Hack" before appearing in 2004's biopic, "Kinsey" of the sex researcher Alfred Kinsey. Later he played a range of co-staring roles in a string Hollywood pictures, including "Brokeback Mountain" and Steven Spielberg's "War of the Worlds".
In the 22nd James Bond production, "Quantum of Solace", Harbour was cast as Gregg Beam - the shifty Head of South American affairs at the CIA. In 2009, Harbour also worked on the thriller, "Sate of Play", where he played alongside Russell Crowe, Ben Affleck and Helen Mirren.