Felix Leiter (Jack Lord)
Datastream
Character: Felix Leiter
Actor: Jack Lord
Movie: Dr. No
Status: Active
Appearance: Male, short dark hair, medium build, medium complexion, is often seen wearing sunglasses and a casual suit.
Date of Birth: 30th December 1920
Height: 6' (1.83m)
Place of Birth: New York City, New York, USA

"You Limeys can be pretty touchy about trespassing."

Pleased To Meet You
Although Leiter is much less of a field agent than 007, his knowledge and expertise have often arrived for Bond just in the nick of time. Leiter slowly becomes the closest thing that Bond has had to a friend, as shown by 007's extreme reaction to his torture in Licence To Kill.
He was subsequently played by Cec Linder (Goldfinger), Rik Van Nutter (Thunderball), Norman Burton (Diamonds Are Forever), David Hedison (Live And Let Die, Licence To Kill), John Terry (The Living Daylights) and Jeffrey Wright (Casino Royale, Quantum of Solace).
Personality
Although Bond and Leiter have become quite good friends, not much is known about Felix's private life. A CIA agent, Bond first encountered Leiter during the Dr No mission, since then, he has been involved in a number of missions with Bond, and they have not only remained allies, but become great friends. Leiter appears to have somewhat of a sense of humour, but his interests are unknown.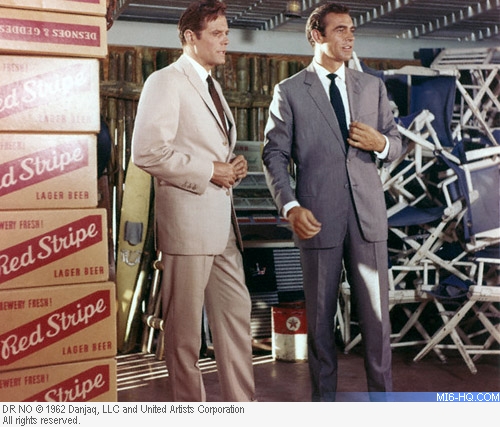 Involvement
Upon his arrival at Kingston Airport Bond is shadowed by a mysterious man in sunglasses. Bond goes to interview Quarrel at the Kingston docks, but finds the suspicious Cayman Islander to be uncooperative. Persisting with his questions in a local bar, Bond finally persuades his subject to talk in a back storeroom. There, however, the agent is jumped by Quarrel and the bar owner. Bond rapidly subdues them in a brief fight—only to be held at gunpoint by the mystery man from the airport. He reveals himself to be CIA agent Felix Leiter, and that not only are the two agents on the same mission, but Quarrel is helping Leiter. The CIA has traced the mysterious radio jamming of American rockets to the Jamaica vicinity, but aerial photography cannot pinpoint the exact location of its origin. Leiter is Bond's contact who supplies him with information on the case.
Biography
Born in Brooklyn, New York, Jack Lord was the son of Irish-American parents. His father, William Lawrence Ryan was a steamship company executive. He was educated at John Adams High School in Ozone Park, New York, Fort Trumbull United States Merchant Marine Academy, then located in New London, Connecticut, graduating as an Ensign with a Third Mates License. He attended New York University on a football scholarship, and earned a degree in Fine Arts.
He spent the first year of World War II with the War Department's Corps of Engineers, building bridges in Persia. He then returned to the Merchant Marine as an Able Seaman before enrolling in the deck officer course at Fort Trumbull. While making maritime training films, he took to the idea of acting. This is when he decided to attend the Neighborhood Playhouse, working first as a salesman for Horgan Ford, then later as a Cadillac salesman in New York to fund his studies. Later, at the Actor's Studio, he studied with Marlon Brando, Paul Newman, and Marilyn Monroe.
Lord's first marriage ended in divorce. Lord met his son (from his first marriage) only once when the boy was an infant. The boy was later killed in an accident at age thirteen. Later, he married Marie.
His first work on Broadway was in Traveling Lady with Kim Stanley. He was then cast as a replacement for Ben Gazzara in Cat on a Hot Tin Roof. Prior to that he had been in several off-Broadway and pre-Broadway plays including The Little Hut (his first play), The Illegitimist, and The Savage. His first Hollywood movie role was in The Court Martial of Billy Mitchell with Gary Cooper. Early in his career, he met his wife, Marie de Narde, who gave up her own career to support him.
Lord the first actor to play CIA Agent Felix Leiter in the EON Productions series, beginning with Dr. No in 1962. His real name, John Patrick Ryan, is also the name of the CIA Agent hero of Tom Clancy's novels. Both characters first appeared on film opposite Sean Connery.
Also in 1962, Lord starred as Stoney Burke, a rodeo cowboy from Mission Ridge, South Dakota, in the television series of that name, which featured Warren Oates and Bruce Dern in recurring supporting roles. He also appeared in an episode of Bonanza. Other television guest appearances include such series as The Man from U.N.C.L.E., The Reporter starring Harry Guardino, The Fugitive, The Untouchables, The Invaders, Rawhide, Ironside, and The F.B.I..
According to screenwriter Richard Maibaum, Lord demanded co-star billing, a bigger role and more money to reprise the Felix Leiter role in Goldfinger which resulted in director Guy Hamilton casting the role to an older actor to make Leiter more of an American 'M'. Producer Albert R. Broccoli also feared that his portrayal of 007's CIA partner would overshadow the persona of James Bond as the main character.
In 1965, Jack Lord was considered for the role of Captain Kirk on Star Trek; the role ultimately went to William Shatner. Because Lord wanted to co-produce and have a percentage in ownership of the series, he was ultimately rejected by both Gene Roddenberry and Desilu Studios.
He starred for twelve seasons on Hawaii Five-O as Detective Steve McGarrett; his catchphrase, "Book 'em, Danno!", became a part of pop culture history. He was dubbed "the Lord" (behind his back) by the cast and crew of Hawaii Five-O because of his imperious manner. It was Lord who insisted his character be given Ford Motor Company products to drive.
Jack Lord died of congestive heart failure at his home on January 21, 1998 in Honolulu, Hawaii, at the age of 77. He left an estate of $40 million, and being a philanthropist in his lifetime, the entire estate went to various Hawaiian charities upon his wife Marie's death in 2005. Portions of their estate were auctioned on eBay in March 2007. Friends of Lord claimed that in his final years he suffered from Alzheimer's disease.