Felix Leiter (Jeffrey Wright)
Datastream
Character: Felix Leiter
Movie: Casino Royale, Quantum of Solace
Status: Active
Actor: Jeffrey Wright
Date of Birth: 07/12/65
Height: 5' 11" (1.80 m)
Place of Birth: Washington, Columbia, USA

"Just one thing. If you pull it off, the CIA get to bring him in."

Pleased To Meet You
Although Leiter is much less of a field agent than 007, his knowledge and expertise have often arrived for Bond just in the nick of time. Leiter slowly becomes the closest thing that Bond has had to a friend, as shown by 007's extreme reaction to his torture in Licence To Kill.

He has been previously played by Jack Lord (Dr No), Cec Linder (Goldfinger), Rik Van Nutter (Thunderball), Norman Burton (Diamonds Are Forever), David Hedison (Live And Let Die, Licence To Kill), and John Terry (The Living Daylights)
Personality
Bond first encounters Leiter in the Casino Royale, when the CIA and MI6 join forces to topple Le Chiffre at the poker table. Leiter appears to have somewhat of a dry sense of humour, but his interests are unknown. He prefers his cocktails without 'fruit'. Although Bond and Leiter eventually become quite good friends, not much is known about Felix's private life.
On the "Quantum of Solace" mission, Leiter initially disobeys his superiors in order to help 007 get to the bottom of Dominic Greene's involvement in Bolivia and his connections to the mysterious organisation Bond is hoping to expose. Covering for 007 almost lands Leiter in hot water with his superior, Gregg Beam, whom he eventually replaces once the dust has cleared on Quantum. Leiter exhibits cool and casual mannerisms - even when flung into the most dangerous of scenarios - and always proves a trustworthy ally to James Bond.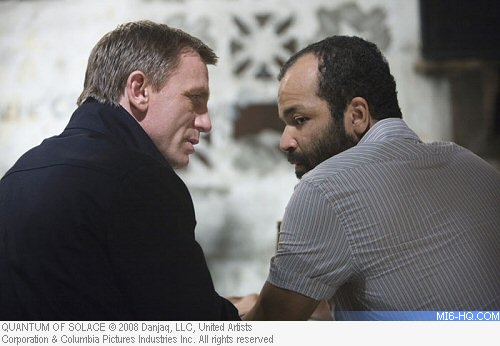 Involvement
Casino Royale - Bond and Felix Leiter cross paths when they are both assigned to the Le Chiffre case. Their first encounter is across the card table, yet Bond does not know of Leiter's CIA connections. However, Bond soon relies on the CIA on to bolster his funds when Felix strikes a deal with MI6's best card player. Felix quickly concedes that 007's card playing skills are above his own and they join forces to topple Le Chiffre - Bond with his raw wit and skill, Leiter with his powerful CIA resources and connections.
Quantum of Solace - Leiter is assigned to the CIA's South American office, where he works under the guidance of Agent Gregg Beam. Involved principally with cutting a deal between Dominic Greene and the US government for Bolivian resources, Leiter's job is put in jeopardy when James Bond flies in. His loyalty to the British Agent means that on numerous occasions Felix has to cover for Bond in order to keep Beam from ousting him. When the full extent of Greene's dubious dealings is exposed by 007, Leiter leases with the British and is promoted by his American superiors in place of Beam.
Quotes
Leiter: I should have introduced myself, seeing as we're related. Felix Leiter, a brother from Langley.
Leiter: [ordering a Vesper martini] My friend, bring me one as well but keep the fruit.
Leiter: Listen, I'm bleeding chips. I'm not going to last much longer. You have a better chance. I'll stake you. I'm saying I'll give you the money to keep going. Just one thing, if you pull it off, the CIA get to bring him in.
Bond: What about the winnings?
Leiter: Does it look like we need the money?
Leiter: [to Bond] I heard a rumour you'd gone native.
Leiter: You know who Greene is and you want to put us in bed with him?
Beam: You're right, we should just deal with nice people.
Leiter: Regimes change once a week down here, Medrano is no dirtier than the next guy.
Bond: Ah, you see that's what I like about US Intelligence, you'll lie down with anybody.
Leiter: Including you, buddy.
"What can I tell you? There's no such thing as a free lunch."
Biography
Jeffrey Wright was born and raised in Washington DC, USA. Wright graduated 1987 with keen interests in politics and science, but his real passion became acting. He earned himself a scholarship to the drama school NYU. Yet, after just a two-month stint at the school, Wright dropped out to pursue his career. He started on the stage and won a notable role in the Broadway production of "Angels of America" (a role he would later reprise in the TV series). He was rewarded with a Tony award for his performance. This flung him to some sense of stardom and he began to pick up roles in films and television. Wright has notably taken up a variety of roles and proven himself an upcoming star with immense talent. His recent winning of both a Golden Globe and an AFI award have brought Wright into stardom.
Some of his most notable productions include: Hamlet (2000), Ali (2001), Angels in America (2003) and Syriana (2005). Following 2008's "Quantum of Solace", Leiter is set to star in another Sony Pictures production, "Cadillac Records", in which he portrays the legendary blues musician, Muddy Waters.