Gareth Mallory (Ralph Fiennes)
Datastream
Character: Gareth Mallory / M
Actor: Ralph Fiennes
Movie: Skyfall
Status: Active
Appearance: Tall, thinning brown hair, blue/grey eyes, often seen dressed in smart, conservative navy-blue or steel-grey three piece suits.
Date of Birth: 22nd December 1962
Height: 6' (1.83 m)
Place of Birth: East Anglia, UK
Pleased To Meet You
James Bond and Mallory come face-to-face in M's makeshift office in Churchill's war bunker, wherein MI6 has retrenched after the terrorist attack on their Thames-side headquarters. Mallory is present at the fitness report and mission briefing. Here, M masks Bond's true fitness in order to have 007 back on assignment. Tanner had previously warned his friend about Mallory's "charming" nature, and the chairman cannot understand why the ageing spy did not simply take his near-death experience in Turkey as a sign he was due for retirement.
Profile
Gareth Mallory served his country in Northern Ireland's conflicts with the Republic, where he rose to the rank of lieutenant colonel in the British Army. He saw action and was captured by the IRA for three months. Upon his escape he was decorated and retired, transitioned into politics. When 007 first met the stern ex-army man, Mallory was serving as the Chairman of the Intelligence and Security Committee. He was charged with overseeing M's "requirement planning", whilst the politicians got their claws into MI6 and attempted a restructure.
His no-nonsense nature meant that 007 and Eve were able to respect, if perhaps not warm to their superior and this was helped by the fact that Mallory is not afraid of critiquing and sometimes openly criticising the squabbling politicians and bureaucrats with whom he has to deal. He supports 007 on the "Skyfall" mission by turning a blind eye to Tanner and Q's off-the-radar deception when it comes to taking the incumbent head of MI6 to a secure, secret location for one final showdown with her pursuer, Silva.
Whilst Mallory was initially tasked with finding a replacement for the head of MI6, upon the sudden death of its chief, Mallory assumes the role. He even adopted the call-sign M, the same nom-de-plum as that of his predecessor, out of respect for her memory. By the end of the "Skyfall" affair, 007 has certainly warmed to the critical, somewhat old-fashioned but likeable Mallory.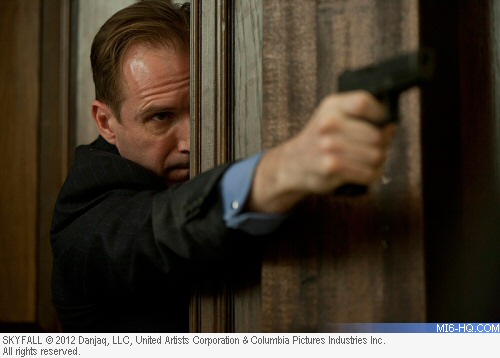 Biography
Ralph Nathaniel Twisleton-Wykeham-Fiennes was born on December 22nd 1962 in East Anglia, Ipswich, UK. His five younger siblings followed in Ralph's (usually pronounced "Rafe") footsteps and went on to equally public careers as musicians, documentary directors or producers. Younger brother Joseph is an acclaimed actor in his own right. By his mid 20s, Fiennes' interest in the dramatic arts had blossomed. Ralph had previously been enrolled in the Chelsea College of Art and Design, thinking that he should become a painter. When he opted instead for acting, he was accepted into the acclaimed RADA (Royal Academy of Dramatic Art), where he would study under Hugh Crutwell. Whilst studying, Ralph won roles with the Regent's Park Open Air theatre.
In the early 1990s, Ralph won his first TV roles, notably "A Dangerous Man: Lawrence After Arabia". It was a special in the "Great Performances" series and co-starred Siddig El Fadil (better known to Western audiences as Alexander Siddig). Fiennes' first cinema roles came swiftly thereafter: he took the role of Heathcliff in a 1992 screen adaptation of Emily Brontë's only novel, "Wuthering Heights".
Fiennes received international recognition through his portrayal of young and ambitious Amon Goeth, an Austrian Nazi in charge of the Plaszów concentration camp, in the Spielberg-helmed "Schindler's List" (1993). Closely following the success of "Schindler's List" was the beautifully haunting but slowly paced "English Patient". This saw Fiennes play opposite Kristin Scott Thomas, Colin Firth and Willem Dafoe.
"The Constant Gardner" (2005), in which Fiennes starred as the widower, alongside current Mrs. Craig, Rachel Weisz, attended the Oscars the following year with nominations for Editing, Screenplay (penned by Jeffrey Caine - one of the many writers behind "GoldenEye") and Weisz for Best Supporting Actress. Weisz won her Oscar but the production team left empty handed.
Fiennes was first linked to the 007 adventure, "Skyfall" in February 2011 when tabloids claimed "his Hollywood representatives are in discussions with the producers and director Sam Mendes". In late March, 2011, Ralph Fiennes was confirmed for stage run of "The Tempest". At the same time, Variety leaked that his commitment to a Sam Mendes production would mean a strictly limited run of Shakespeare. Although many speculated that Fiennes would be cast as M's replacement, the production kept the secret, denying the character-assocation to Bond's iconic boss.
Related Articles
Allies Index