Tiger Tanaka (Tetsuro Tamba)
Datastream
Character: Tiger Tanaka
Actor: Tetsuro Tamba
Movies: You Only Live Twice
Status: Retired
Appearance: Medium height and build, brown eyes with a thick comma of black hair. Often seen in traditional Japanese garb or impeccable business suits.
Date of Birth: 17th July 1922
Date of Death: 24th September
Height: CLASSIFIED

Pleased To Meet You
After a long flight and a mysterious ride from a girl, James Bond drops in to see Tiger Tanaka. The resourceful Aki baits Bond into following her into an underground station when the floor collapses underneath Bond and he slides down a shoot into Tanaka's office. The secret service man, cold at first, warms to 007 when he utters the password: "I love you."
Tiger: You have to marry an Ama girl.
Bond: Is she pretty?
Tiger: [Jokingly] She has a face like a pig.
Personality
Efficient and a follower of the latest technologies and trends, Tanaka is the perfect man to be heading the Japanese secret service. He is typically brisk with his staff but deeply respects loyalty. When not on duty, Tiger transforms into the warm, jovial and welcoming host that Bond grows to respect. Tiger is determined to teach the British agent the ways of the Japanese men, culminating in having him pretend to marry one of his own agents as cover. In many ways, Tiger is more than a match for 007, in terms of womanising and drinking, but is skeptical about how much Bond smokes. Even though most of his job takes place behind a desk (or onboard his private underground train), Tiger is still fit and fights with the best of them.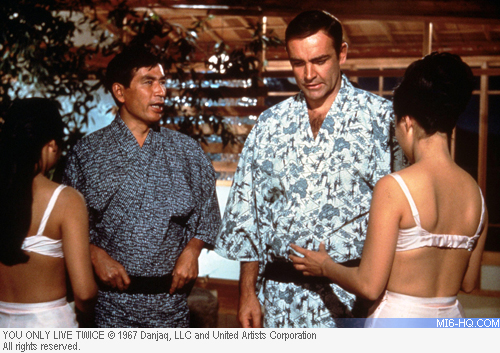 "Tonight, you take your first civilised bath."
Involvement
As its head, Tiger puts the might of the Japanese secret service at Bond's disposal, researching a mysterious delivery of lox and other supplies to the remote islands where the villains are conducting their operations. He assigns one of his best and most beautiful agents, Aki, to accompany 007 on his mission in Japan, and liaises with M and Q back in England to have the equipment 007 requires in Japan in record time. When Bond needs to raid the gigantic lair wherein awaits danger and disaster, Tiger provides reinforcements in the form of highly skilled ninja warriors. Tiger even accompanies Bond and his men on the death-defying mission. When Blofeld finally senses defeat and triggers the destruction of his lair, Tiger and only a few of his men escape alive.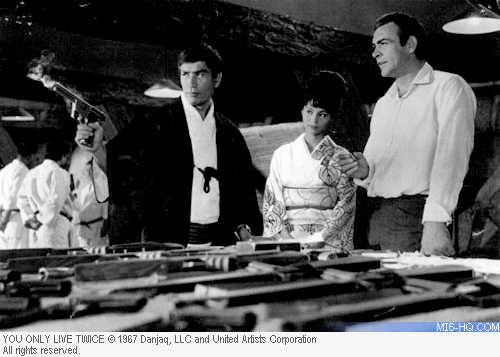 "This is our baby-rocket. It is very useful for people who smoke too many cigarettes, like you. It can save your life, this cigarette."
Biography
Born in Tokyo, Japan, in 1922, Tetsuro Tamba did not start winning regular TV and film roles until he was in his 30s. Quickly his career blossomed, appearing in "Three Outlaw Samuri" - a film adaptation of a successful Japanese series, wherein Tamba played on of three ronin (samurai without masters). By 1967 Tamba had a dozen films to his name and a reasonable grasp of the English language, such that he was cast in "You Only Live Twice" as the memorable ally, Tiger Tanaka. He auditioned for the role in May '66 but director Lewis Gilbert worked with the Japanese actor on "The 7th Dawn" (1964), a William Holden starrer, set in Malaysia during the Second World War.
Tamba would go on to star in over 300 films and TV series as well as write spiritual texts. He won a Japanese Academy Award for Best Supporting Actor in 1981. He worked in the cinema consistently until his death in 2006. Despite a memorable outing in James Bond's 1967 adventure, Tamba's English language films were few.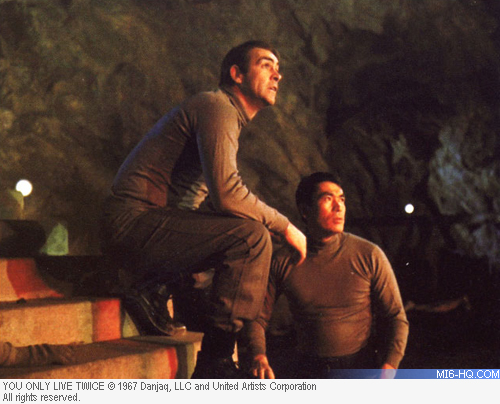 "How's that for Japanese efficiency?"
Related Articles
Allies Index