Bill Tanner (Rory Kinnear)
Datastream
Character: Bill Tanner
Movie: Quantum of Solace
Status: Active
Actor: Rory Kinnear
Date of Birth: 17 February 1978
Place of Birth: London, UK

Pleased to Meet You
A loyal associate of James Bond, one of his few friends in the Service, Bill Tanner is responsible for liasing between M's office and her agents as well as keeping tabs on ongoing missions for the chief. Bond and Tanner compare notes over the elusive Dominic Greene and Tanner helps to keep M off 007's back when he is working in the field.

Personality
An steady hand in the Service, Bill Tanner is fond of the old days and often appears disgruntled with the advanced technology adopted MI6. Despite his resistance to change, Tanner is a down-to-earth and reliable right-hand man to M, dedicated to his job and armed with a dry sense of humour.
Tanner has previously been played by James Villiers (For Your Eyes Only) and Michael Kitchen (GoldenEye, The World Is Not Enough).
"Dominic Greene, CEO of Greene Planet, it's a utility company but Greene's been doing a lot of philanthropic work, buying up large tracks of land for ecological preserve."
Involvement
As M's Chief of Staff, Tanner works in the high-tech offices next door to the Secret Service chief at MI6 headquarters. Tanner efficiently liaises with 007 and when required, keeps tabs on his unconventional friend. A valuable ally to both M and Bond on the "Quantum of Solace" mission, Bill Tanner is armed with a sharp wit and diplomatic charm when necessary.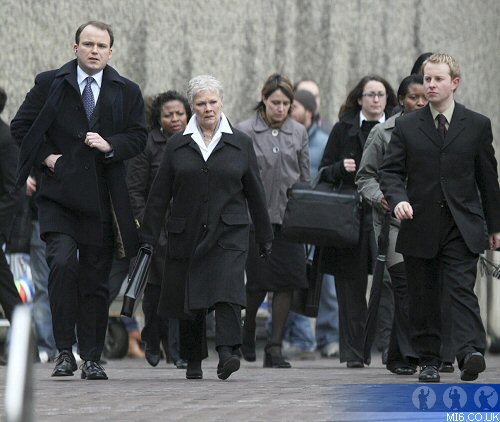 "You build up the character, it [dialogue] didn't just tumble out of my mouth like horse droppings." - on keeping Tanner real
Biography
Kinnear was born on 17th February 1978 into a theatrical family. His mother, Camel Cryden, and father, Roy Kinnear, were both experienced actors in their own right. When young Rory was just 10 years old, his father passed away whilst shooting a film in Spain. However little time he had with his father, Kinnear has very favourable memories of his Dad, and was inspired to follow in his career choice.
Kinnear read English and the prestigious Oxford University before finding his calling at the London Academy of Music and Dramatic Arts (LAMDA), from which he graduated in 2001. He was welcomed into the London National Theatre shortly after his graduation from the Dramatic college and performed in a number of their regular productions. There he won the admiration of National Theatre director Nick Hytner. His theatre resume includes "Mary Stuart", "The Made of Mode" and "Festen". Kinnear also appeared in a number of productions for the prestigious Royal Shakespeare Company including "The Taming of the Shrew" and "The Tamer Tamed" - both in 2003.
Kinnear made his television debut in 2001 on the episode "Duty of Care" for the British legal drama, "Judge John Deed". Since then, Kinnear has kept himself a busy both on stage and on the screen appearing in the hit detective drama "Silent Witness", portrayed Dennis Thatcher in a biopic of his politician-wife's life and starred as Rushworth in period piece "Mansfield Park".
The 22nd James Bond film marks Rory Kinnear's feature film debut.