Valentin Zukovsky (Robbie Coltrane)
"I'm looking for a submarine: it's big and black and the driver is a very good friend of mine!"

Datastream
Character: Valentin Zukovsky
Movie: GoldenEye, The World Is Not Enough
Status: Presumed Dead
Actor: Robbie Coltrane
Date of Birth: 30th March 1950
Height: 6' 1" (1.85 m)
Place of Birth: Rutherglen, Scotland, UK

Pleased To Meet You
Bond and Zukovsky have a long and tangled association of convenience. On the "GoldenEye" mission CIA agent Jack Wade delivers James Bond to the Russian mobster's back door and is surprised to learn that 007 was responsible for the rogue's limp. At Zukovsky's new nightclub, Bond confronts him with the familiar click of a Walther PPK, but he does not want Valentin dead - he wants a favour.

Personality
Sly, resourceful and with a devious sense of humour, Valentin Zukovsky is both a smart businessman and a crooked con-man. With connections to the Russian Mafia and as an ex-KGB operative, Zukovsky can get away with just about anything. His connections have proved useful to James Bond on more than one occasion - reluctantly assisting 007 on two documented missions, with reference to past conflict between the old spies. Suspicious dealings, such as selling explosives, guns or even submarines to the highest bidder, rarely go wrong for this experienced career criminal.
Involvement
Goldeneye - "Walther PPK? Only three men use such a gun and I believe I've killed two of them... James Bond!" On the mission to Russia, Zukovsky acts as middle man when Bond is attempting to track down the mysterious leader of the Janus crime syndicate. Zukovsky agrees to arrange a meeting if 007 organizes an escape from the authorities for Valentin's men trading tons of C4 explosives.
| | | |
| --- | --- | --- |
| The World Is Not Enough - The mobster has seemingly gone legitimate, running a high-class casino and caviar factory in Eastern Europe and the Caspian region. When the devious damsel Electra King "loses" one million dollars at Zukovsky's high-stakes table, Bond immediately notices Valentin is up to his usual tricks again. It turns out, ever the businessman, Zukovsky had provided a set of KGB parahawks and pilots - used as an assassination squad to attempt a hit on 007 - and a Russian Nuclear Submarine. Releasing he has been duped by King, Valentin comes to Bond's aid at Maiden's Tower in Turkey. At the remote outpost Zukovsky is shot and left for dead. | | |
Memorable Quotes
[As a buzz-saw-helicopter destroys his caviar factory]
Valentin Zukovsky: The insurance company is never going to believe this!
James Bond: What's your business with Elektra King?
Valentin Zukovsky: I thought you were the one giving her the business.
Valentin Zukovsky: So Mr. Bond, what is it that brings you to my neighbourhood? Still working for MI6, or have you decided to join the 21st century? I hear the new M is a lady!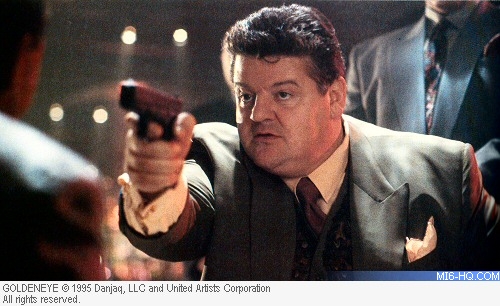 "Can't you just say 'hello', like a normal person?"
Bull: Boss? You're alive! I'm so glad to see you!
[shooting his double-crossing henchman]
Valentin Zukovsky: Me too!
Valentin Zukovsky: So why did you not kill me?
James Bond: Call it professional courtesy.
Valentin Zukovsky: He wants me to do him a favour? My knee aches every single day! Twice as bad when it is cold. Do you have any idea how long the winter lasts in this country?
Biography
Born Anthony Robert McMillan, he was the second of three children growing up in South Lanarkshire, Scotland. His father was a GP and later a police surgeon. He was schooled at Glenalmond College, the co-ed boarding school. He left school without much distinction but found a talent for fine art and later studied at Glasgow School of Art and even spent a year at Moray House, College of Education at Edinburgh University.
In his early 20s he found a penchant for acting and in particular, improvisational and sketch comedy. Coltrane took his stage name in a nod to his jazz hero John Coltrane and in his early twenties earned himself a local reputation as both a stand up comedian and a regular performer at Traverse Theatre in Edinburgh.
His first television roles came in the 1980s when he was cast in shows including, "Metal Mickey", "Keep It in the Family" and even tried his hand on the short-lived BBC chat-show "Sin on Saturday". Coltrane quickly won a range of bit parts in some early '80s films such as "La mort en direct" and the all-star "Flash Gordon" (1980), which included Bond actor Timothy Dalton as well as Max von Sydow, Brian Blessed and Topol. Focusing where his real talents lay, Coltrane teed up with a prolific selection of Cambridge Footlights stars, Stephen Fry, Hugh Laurie, Emma Thompson and Ben Elton to appear two short seasons of sketch comedy show "Alfresco" (1983).
In the late '80s Coltrane appeared in "Mona Lisa". The twisted love-drama gave Coltrane the opportunity to work with stars Bob Hoskins and Michael Caine. Following this he earned the opportunity to headline his own TV show: "Tutti Frutti", which screened 6 episodes in '87. Following this his career boomed - Coltrane appeared in two "Blackadder" episodes, Kenneth Branagh's "Henry V", slapstick comedy "Nuns on the Run" with Python-man Eric Idle and a slew of other silly yet memorable comedy films before taking a different turn.
1993 gave Robbie Coltrane the opportunity to explore the darker side of TV drama in the award winning "Cracker". Coltrane appeared in 20 episodes over 3 years as the harsh forensic psychologist, Eddie Fitzgerald.
Midway through his "Cracker" stint, Coltrane rendezvoused with 007 on Pierce Brosnan's first outing, "GoldenEye". Blessed with some of the best lines of the script, Coltrane was reportedly so pleased with the character he suggested Zukovsky should return at a later date. Four years later his request was granted. The mobster's character is fleshed out and Robbie Coltrane is given a substantially bigger role in 1999's "The World Is Not Enough".
Between Bonds Coltrane, shot with Stanley Tucci and Kyra Sedgwick on crime-drama "Montana" and appeared as the comic figment Tweedledum in a screen adaptation of Lewis Carroll's "Alice in Wonderland". Most recently Coltrane has played the role of Rubeus Hagrid in the smash hit Brit film franchise "Harry Potter" (2001-present) as well as playing the British PM in kid-spy outing "Stormbreaker" (2006) and the same year found time to reprise his famous role as Fitz in a one-off "Cracker" special.