| | |
| --- | --- |
| | Alan Hume, a prolific Cinematographer and Director of Photography and veteran of four James Bond films, has died aged 85... |
Alan Hume (1924-2010)
13th July 2010
A prolific Cinematographer and Director of Photography, Alan Hume was born on 16th October 1924 in London, England. His career spanned six decades in the British film industry. Hume started out as a clapper board loader at Denham Film Studios during World War II. In his debut year in 1942, his first three productions included some of the biggest stars of the screen: David Niven in "Spitfire", James Mason in "Thunder Rock" and Noel Coward, John Mills and Richard Attenborough in "In Which We Serve".
He quickly graduated to the position of Focus Puller in 1943, and had his first Camera Operator assignment after the War ended with the second unit of "Great Expectations" in 1946 when he moved to the Cineguild Production company. After a few years perfecting his craft with back-to-back productions as a focus puller, he became a regular camera operator in 1953 and rarely found himself with time between films.
The "Carry On" series of comedy films kept Hume steadily employed from "Carry on Sergeant" in 1957 until the series wound down in 1973 (he also returned for the 1992 big screen one-off "Carry on Columbus"), working his way up to the regular position of Cinematographer or Director of Photography during this period. He worked on 99 productions under this prestigious title between 1960 and his retirement in 1998.
Hume's first brush with 007 would come in 1977 when he worked as DoP on the 2nd unit of "The Spy Who Loved Me" capturing the classic ski-jump stunt in the pre-titles sequence. When the next film, "Moonraker", moved its production to France, Hume stayed in Britain to work on "Arabian Adventure" with Christopher Lee and Peter Cushing, and the biographical drama "Birth of the Beatles".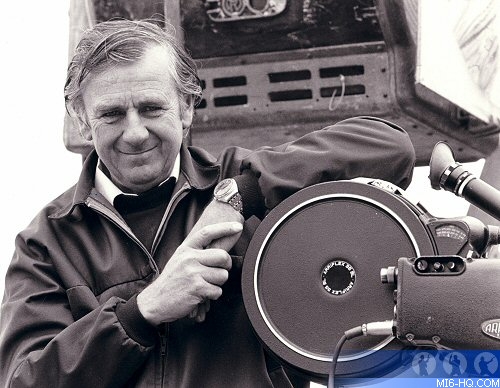 Above: Alan Hume (photo courtesy BondStars.com)
James Bond would come calling again in 1981, when long-time editor John Glen was elevated to director by EON Productions (now solely controlled by Cubby Broccoli) for the 'down to earth' adventure "For Your Eyes Only" with Roger Moore in his fifth outing as 007. Hume's role as DoP for Glen would continue through "Octopussy" (1983) and "A View To A Kill" (1985). Hume often worked with Alec Mills as his camera operator, and it was Mills who succeeded him as DoP on Glen's two remaining Bond movies "The Living Daylights" (1987) and "Licence To Kill" (1989).
Sir Roger Moore, who also filmed "Shout At The Devil" with Alan, described him as being "one of the loveliest film professionals, with such a lovely sense of humour and it was joy to know and work with him. My thoughts are with Sheila and all his family. "
During his tenure with Bond, Hume also squeezed in the (then) third Star Wars film "Return of the Jedi". According to reports, he had a falling out with the producers because he felt they were mistreating the director, the late Richard Marquand. He was never officially sacked, but the photography during the last month was handled primarily by his assistant Alec Mills.
After "Carry on Columbus" in 1992, Hume's work moved to television, where he worked on the series "Laugh with the Carry Ons", "Acapulco H.E.A.T", Space Precinct" and "Tales from the Crypt". Fittingly, considering the number of titles in the franchise he worked on, Hume's last credit was the TV special "What's a Carry On?" in 1998.
Hume continued his Bond connections long after his work on the series, by regularly attending special events and reunions. His last appearance was at the "From Pinewood With Love" event held by BondStars.com in August last year. Those lucky enough to have met Alan will recall a kind, gentle and generous man who told countless fascinating stories and anecdotes from his incredible career.
Alan Hume died on Tuesday 13th July 2010.
He is survived by his wife Sheila and his four children - all of whom have followed him into the industry. His eldest son Lindsey (who died in 1967) was in the cutting rooms. Martin Hume is a Camera Operator, Pauline Hume a Titles Designer and Simon Hume a Focus Puller. Martin and Pauline have also worked on recent Bond films. Of the next generation Lewis Hume (Simon's son), is a Camera Assistant.