| | |
| --- | --- |
| | Best known to Bond fans worldwide as the first silver screen villain "Dr No", actor Joseph Wiseman has died aged 91... |
Joseph Wiseman (1918-2009)
20th October 2009
Joseph Wiseman was born in Montreal, Canada on May 15th, 1918. Undoubtedly, Wiseman is most recognised as 007's very first arch enemy in 1962 the film "Dr. No", yet Wiseman had been acting since the 1930s. He moved with his family to the United States when he was a boy.
Wiseman landed his first Broadway role in the company of "Abe Lincoln in Illinois" in 1938. He went on to perform in a steady string of Broadway productions, including: "Joan of Lorraine" (1946), "Antony and Cleopatra" (1947), "Detective Story" (1949),; "The Lark" (1955) and the title role in "In the Matter of J. Robert Oppenheimer" (1969).

He was critically hailed for his performance in Shakespeare's "King Lear", Clifford Odets' "Golden Boy" and Anton Chekhov's "Uncle Vanya".
Prior to his stint with 007, Wiseman has acted on screen opposite Marlon Brando in "Viva Zapata!" (1952) as his archenemy, and with Burt Lancaster in "The Unforgiven" (1960). His other pre-Bond villain film credits included "Detective Story" (1951) and "The Garment Jungle" (1957).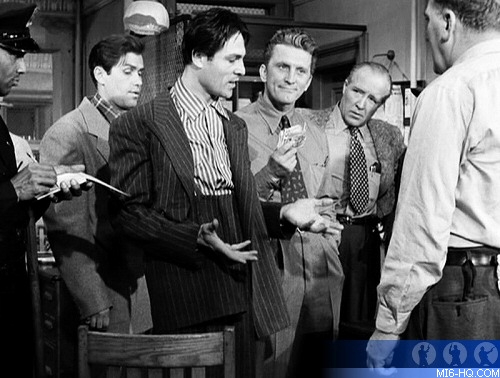 Above: Joseph Wiseman demonstrates the "palms up" gesture for Kirk Douglas and William Bendix in William Wyler's "Detective Story" (1951)
His most famous role as the titular Dr. No in the first big screen James Bond movie by EON Productions came by the way of producer Harry Saltzman, who cast Wiseman as 007's first nemesis in December 1961. It was his role as a drug fiend in "Detective Story" which reportedly singled him out as the front runner. All of his scenes were shot in Pinewood on Ken Adam's impressive sets, where along with Sean Connery, he met 007's creator Ian Fleming.
After Bond Fever struck around the world in the early 1960's, Wiseman appeared in "The Night They Raided Minsky's" (1968) and "The Apprenticeship of Duddy Kravitz" (1974). Later he appeared opposite Sir Laurence Olivier in "The Betsy" (1978).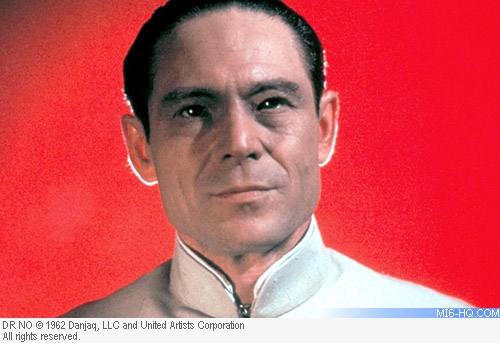 "East, West - just points of the compass,
each as stupid as the other"
Later in his career, Wiseman enjoyed many guest roles on popular television shows, including "Law & Order," "L.A, Law," "MacGyver," "Buck Rogers in the 25th Century," "The A-Team," "The Streets of San Francisco," "The Untouchables" and "The Twilight Zone." In the late 1980s, he had a recurring role as the crime boss Manny Weisbord on the NBC drama "Crime Story."
In 1994, he appeared Off Broadway in the Tony Kushner play "Slavs!" in the role of Prelapsarianov, "the world's oldest living Bolshevik." In a review for The New York Times, Vincent Canby said Mr. Wiseman played Prelapsarianov "to frail perfection." Back on Broadway, Wiseman's appeared in Arthur Miller's "I Can't Remember Anything" in 1997. His last role was as a witness for the prosecution in Abby Mann's stage adaptation of his film drama "Judgment at Nuremberg" in 2001.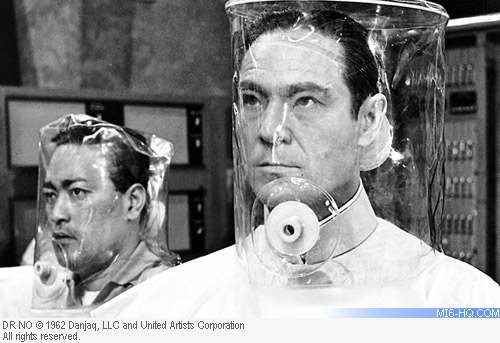 "I had no idea what I was letting myself in for. I had no idea it would achieve the success it did. I know nothing about mysteries. I don't take to them. As far as I was concerned,
I thought it might be just another Grade-B Charlie Chan mystery" -- Joseph Wiseman on his role as Dr. No
Wiseman died on Monday 19th October 2009 at his home in Manhattan. He was 91, and the last surviving main villain of the James Bond films that Sean Connery made for EON Productions. His daughter, Martha Graham Wiseman, confirmed the death, saying her father had recently been in declining health. His first marriage, to Nell Kinard, ended in divorce; his second wife, the choreographer Pearl Lang, died in February. In addition to his daughter, Martha, from his marriage to Ms. Kinard, Mr. Wiseman is survived by a sister, Ruth Wiseman.
Related Articles

Dr No