| | |
| --- | --- |
| | Linda Christian, the 'Anatomic Bomb' and first screen Bond Girl, has died at the age of 87... |
Linda Christian (1923-2011)
24th July 2011
Linda Christian was born on November 13th, 1923, as Blanca Rosa Welter in Tampico, Tamaulipas, Mexico. She was the oldest daughter of Royal Dutch Shell executive Gerardus Jacob Welter and his Mexican-born wife Blanca Rosa, who was of Spanish, German and French descent.

She had three younger siblings; a sister and two brothers. As a child, Christian traveled extensively as her father's work moved across South America, Europe, the Middle East and Africa. Due to her upbringing in several countries, and her mother's mixed European heritage, Christian grew to speak fluent English, French, German, Dutch, Spanish and Italian.

Although she grew up aspiring to become a doctor, and briefly began started studying medicine in Palestine (but returned to the USA due to international tensions), Christian had a chance meeting with her screen idol Errol Flynn after graduating from secondary school.
She was persuaded to move to Hollywood and become an actress. After struggling to land notable parts outside of drama productions, the secretary of Louis B. Mayer, of famed studio MGM, discovered her at a fashion show in Beverly Hills. He quickly offered he are seven year contract with MGM, which she accepted.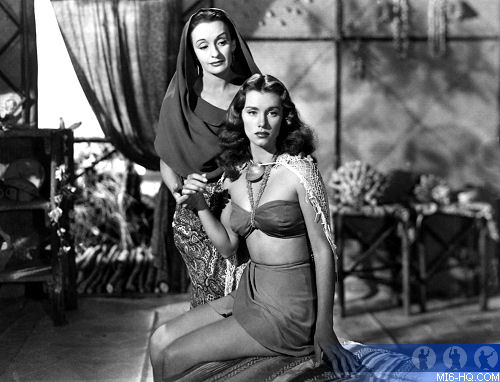 Above: Linda Christian as Mara in the 1948 movie "Tarzan and the Mermaids".
Her first screen appearance in an MGM production was 1944's "Up in Arms" where she played the uncredited role of 'Goldwyn Girl'. A string of unremarkable MGM movies followed until memorable "Tarzan and the Mermaids" in 1948, where she played Mara. She caught wider attention thanks to a pictorial in the January 1st 1949 issue of fashion magazine Vogue, and was given the nickname the 'Anatomic Bomb'.
Christian married swashbuckling actor Tyrone Power in 1949. Before their divorce in 1956, the couple had two children: Taryn Power and Romina Power.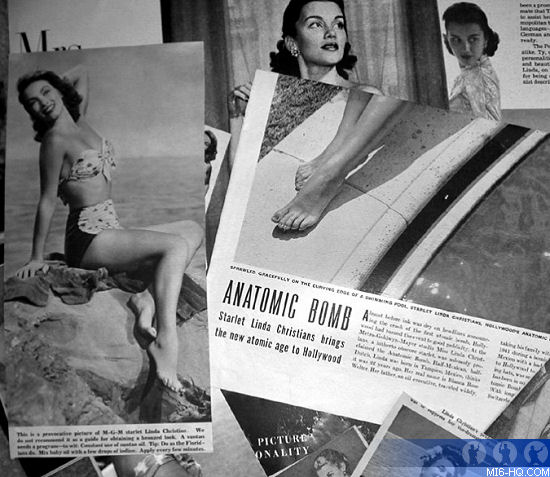 Above: The pictorial which dubbed her the 'Anatomic Bomb' and thrust her in to fame.
It was in 1954 that Linda Christian would become the first Bond Girl on screen, although nobody at the time would have guessed it would be of any historical note. American Barry Nelson starred as 'card-sense' Jimmy Bond in a 1 hour live production of Ian Fleming's "Casino Royale". The performance on 21st October 1954 (8.30pm EST) was the first in CBS's 'Climax' series of dramas. Christian played the love interest and 'Bond Girl' Valerie Mathis, in place of the traditional Vesper Lynd. Many of the roles were altered to suit to Americanization of the adaptation.
Only a month after her divorce was made final in 1956, Christian made waves by being seen with Spanish athlete Alfonso de Portago, who was married to Carroll de Portago at the time, and had just given birth their second child. If courting two women wasn't enough, de Portago was also dating model Dorian Leigh, mother of his recently born illegitimate son Kim. A famous 1957 photo shows Christian leaning in to kiss de Portago before he drove off and crashed his Ferrari, killing himself and at least ten spectators in the process. The press labeled the photo, "The Kiss of Death." De Portago was only 28-years-old. Her ex-husband, Power died the following year of a heart attack at the age of 44.
It was scandals involving her private life more than her film roles that long made her a favorite of the media. Christian was later also briefly married to the Rome-based British actor Edmund Purdom between 1962 and 1963.

Christian continued worked through the 1950s and 1960s until the Italian production "L'oro del mondo" in 1968. She penned her autobiography, simply titled 'Linda', in 1962. After a break of almost 20 years, Christian returned to the silver screen in "Amore inquieto di Maria" in 1987. Her final credited production was the TV movie "Cambiamento d'aria" in 1988. She can be seen in the 2008 DVD documentary "The Road to Casino Royale" as herself.

Christian died aged 87 on July 22, 2011 in Palm Desert, California, USA, after suffering from colon cancer.

She is survived by daughters Romina and Taryn Power and eight grandchildren.