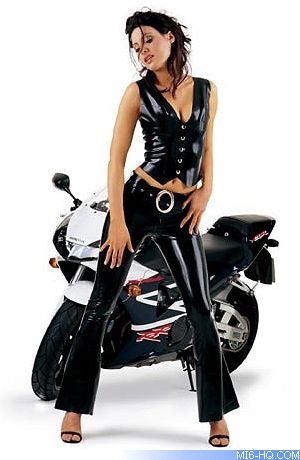 Above: Catherine McQueen stars in the new 2003 Men & Motors calendar.
Did you enjoy the filming?
It was amazing, I am a bond girl in the widest terms, but it was such an amazing experience to be part of it, there was no expense spared. It was filmed in pinewood studios, the set was absolutely beautiful.
Did you have many scenes with Pierce Brosnan?
I played next to him, I got to spend quite a lot of time with him and Halle Berry. He was so friendly and charming he spoke to us all and Halle Berry, if possible, is even more beautiful in real life.
Cutting Room Floor
Unfortunately for Catherine, her part in "Die Another Day" may be consigned to the world of Bond folklore or a DVD cut-scene.
The final edit of the film is unlikely to feature the Ice Palace girls. Newspapers are speculating it is because the producers are unhappy about the models claiming Bond girls status, but MI6 sources have said it is simply to trim the running time of the film and keep the pace of the story.
Yesterday, her agent confirmed her involvement after the tirade of tabloid hype: "She was just an extra. She was never going to be in the film."