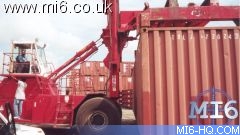 The Die Another Day containers being unloaded by dock workers.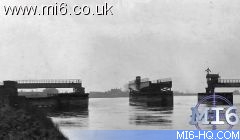 Immingham Docks, North Lincolnshire
The manager of the Icelandic export department at Eimskip, Mike McDonald, said:

"We've transported an Aston Martin, Jaguar, film props and lighting and electrical equipment which will now be going back to Pinewood Studios."

Eimskip has previously been responsible for shipping props for the film Tomb Raider as well as transporting the entire Jorvik Viking exhibition to Iceland.
Mr McDonald said he was looking forward to seeing the end product when Die Another Day is released later this year.
He added, "We get two or three jobs like this a year, but the volume of James Bond stuff is a lot bigger than some of the other ones we have done".