| | |
| --- | --- |
| | A little history is being re-written to bring James Bond's MI6 military record up to date ahead of his double-0 promotion in the 21st film Casino Royale... |
James Bond's Dossier - Military Record
20th October 2006
Commander James Bond is a Senior Operational Officer stationed at MI6 HQ, London. Per request, the following are summaries of Commander Bond' s military service. They are viewable by section:
Britannia Royal Naval College
Commander Bond excelled in all areas of training. He seemed to come into his own upon his entrance into the service. Cdr. Bond matriculated from his coursework at BRNC with passable marks. He excelled at athletic competitions, strategic operations, and counter-intelligence courses, but his unconventional approach to his education, his diffident attitude to certain of his superiors, a lack of respect for curfew drew him many demerits. On more than one occasion, a fellow candidate was strongly suspected of lying to protect Cdr. Bond from punishment.
Sea Service
Cdr. Bond conducted his year of Sea Service with high recommendations from his Chief Petty Officers and Warrant Officers. He applied for and was uniformly recommended for work in Naval Intelligence.
Early Service
Bond served as an intelligence officer on HMS Exeter both before and during Operation Granby, and later was able to transfer to submarine service, touring on the HMS Turbulent. His natural abilities, mental quickness and confidence impressed his commanding officers. Within the year of being assigned to HMS Turbulent, it became apparent that Bond was not being sufficiently challenged with his duties. Cdr. Bond volunteered for Special Boat Service.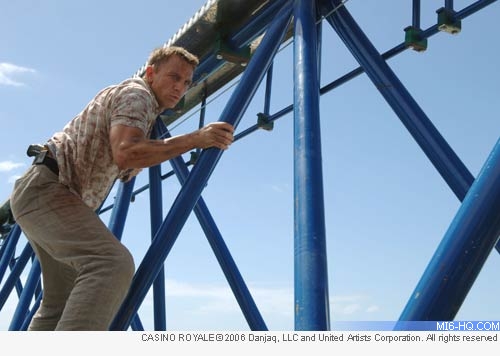 Special Forces Training
Cdr. Bond excelled at SC3 and Underwater and Aquatic Warfare training. He constantly equaled or bested his superior officers and instructors in all areas after nominal experience. Cdr. Bond earned the distinction of being the only candidate to entirely escape detection during the night limpet placement operation at Plymouth. There was some doubt as to whether Bond had actually accomplished the mission per the assignment until he demonstrated his rather ingenious method of eluding the underwater infra-red cameras and sonar systems in-place. His techniques were rapidly included in future training.
Upon completion of UAW training, Cdr. Bond commenced Advanced Commando Parachute training at Brize Norton. Attached is a report from his instructor (name omitted):
| | | |
| --- | --- | --- |
| | Lieutenant Bond participated in the first group freefall exercise today, where the following incident occurred: At 700 m. 3 rd jumper Lt. Cameron' s ripcord pin sheared, and he panicked. 4 th jumper Lt. Bond spotted Cameron, and at great personal risk, repositioned himself to aerially intercept Lt. Cameron at approx. 300m, and deploy Lt. Cameron' s chute. Lt. Bond deployed at 150 m. Lt. Cameron shattered his hip upon landing, although Lt. Bond escaped without serious injury. | |
Bond' s record with training earned him placement with the 030 Special Forces Unit, rather than deployment as a swimmer-canoeist with the standard SBS Units in Poole. During further training with 030 SFU, Cmd. Bond earned certifications for the operation of assault helicopters, Harrier-class jets, fixed wing aircraft, hovercrafts, marine assault vessels, armored vehicles, and other crafts.
030 Special Forces Unit
Cdr. Bond served with distinction in the 030 Special Forces Unit. He proved adept at training other candidates, initiating athletic competitions, and fostering a creative environment. During his three-year tenure with the 030 SFU, Cmd. Bond rose to the rank of Lieutenant Commander. He saw covert service in Iraq, Somalia, Iran, Libya, and active service in Bosnia. Upon completion of his duties in Bosnia- where Bond was credited with saving the lives of nearly 100 men from a Serbian militia in one village- Bond was recruited by the RNR Defence Intelligence Group and awarded the rank of Commander.
Defence Intelligence Group RNR
Cmd. Bond' s work with the Defence Intelligence Group at Defence Intelligence and Security Centre, Chicksands, proved highly satisfactory, although his fellow officers noted Bond' s rather casual attitude toward command structure and protocol. Cmd. Bond' s work provided vital intelligence during key moments with Libya, Iraq, Iran, Afghanistan, Cyprus, Indonesia, China (during the Hong Kong handover) and North Korea. In Libya, Bond was able to secure detailed assessments of the status of the Libyan government' s reputed financial ties to numerous terrorist organizations, as well as crucial information related to the settlement of issues related to the Pan Am 103 case. In Iraq, Cmd. Bond was able to monitor Iraqi counter-moves to the UNSCOM (now UNMOVIC) inspections process during one key period. Cmd. Bond undertook a particularly hazardous mission into Afghanistan to rescue a researcher deemed important to Her Majesty' s government who was being imprisoned by the Taliban government. During the S-300 missile crisis in Cyprus, Cmd. Bond helped undermine the Republic of Cyprus government' s confidence, and, it is felt, helped bring a peaceful resolution to the matter. During his tenure at the DI Group RNR, Bond attended specialized courses at Cambridge (where he achieved a first in Oriental Languages), Oxford and other institutions. Bond left the DI Group RNR after recruitment by the MI6.
Related Articles

James Bond's Dossier - History

James Bond's Dossier - Military Record

James Bond's Dossier - Psychological Report

James Bond's Dossier - Service Record

Casino Royale Movie Coverage