| | |
| --- | --- |
| | James Bond producer Barbara Broccoli recently reflected on the latest film Casino Royale and the casting of Daniel Craig... |
Broccoli On The New Bond
18th March 2007
A graduate of Loyola University, Los Angeles, where she majored in motion picture and television communications, Barbara Broccoli has worked in the production and casting departments at EON Productions for many years. Together with her step-brother Michael G. Wilson, she produced "Casino Royale", the twenty first 007 adventure in the series, starring Daniel Craig and Eva Green.

Starting her career as an assistant director on "Octopussy" and "A View To A Kill", Barbara worked her way up to become associate producer on "The Living Daylights" and "Licence To Kill". She then went on to produce "GoldenEye", "Tomorrow Never Dies", "The World Is Not Enough" and "Die Another Day".

Broccoli recently spoke to FilmStew to discuss the making of "Casino Royale" and the casting of Daniel Craig in the lead role. Even though "Die Another Day" had enjoyed the largest box-office takings in the series' history in 2002, Broccoli & Wilson decided to take the franchise in a fresh new direction, and the successful of the latest film vindicated their bold approach.
"It's always a challenge because you sit down and you say, 'What journey are we going to take Bond on?'" she told FilmStew. "We were very lucky this time because we had the book and we basically just sat down, analyzed the book and thought, 'How are we going to adapt this for today?'" "I mean, it was written in 1953. I think the essence of the book is certainly in the screenplay, which is that the Le Chiffre character is banker to the world's terrorists. He is the one that enables all this money to be moved around, to fund all kinds of terrorist activity. I think that's very relevant today, because as we are all concerned about terrorists we're also concerned about how they are funded. So, strangely, it fit very well into a story that had been written in 1953. I think that the plots ARE complex, but it's supposed to be a mystery. You're supposed to be intrigued and try to figure out what Bond is up to as he's trying to unravel the mystery as well. And hopefully by the end of it you feel as if you sort of understand everything."
Some of the recent entries in the series, such as "The Living Daylights", have been noted for their complex plots, but there is no risk of the Bond films "dumbing down" to Hollywood. "I think when you make films you have to assume that people are intelligent," she argues. "I think, often, people do dumb down films too much. Audiences, I don't think, really like that. There's nothing better than when you go to a movie and, afterward, you're having your glass of wine or you're having your hot chocolate and you say, 'Why did he do that?' or 'Why does…' and you talk about it. That's something I think people like. It's a communal experience. I think people like to go to the movies and they like to talk about them and argue about them. That's part of the fun."
The most reported aspect of making Casino Royale was not the source material, the plot, the return to 007's roots or the gritty and realistic approach. Casting a new James bond created waves in the media before any decision had been finalised and anyone had seen Daniel Craig perform in the famous tuxedo.

"The REALITY was that Michael and I always wanted Daniel," she says. "He was our first choice from the get-go. The fact was we approached him and he said, 'Look, I'll consider it, but I'm not going to make a decision until I read a script.' So the time between giving him the script and announcing him was about three or four weeks. All of that other stuff was a lot of speculation. Obviously, we didn't know if he would do it, so we did meet a lot of people and we considered people, but the speculation was… dumbfounding to me. There was so much press going on, rumors about what we were doing that just were not true. We wanted him. He's the only person we offered the role to. He read the script and he agreed."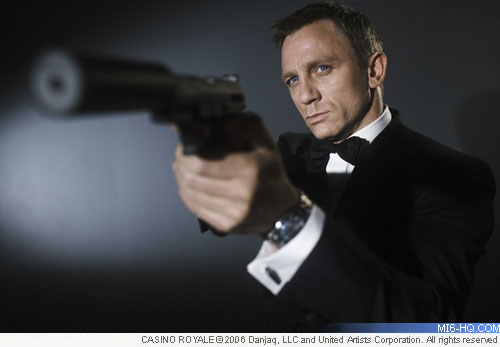 Casino Royale broke all box-office records for the Bond series around the world and work has now started on the 22nd installment, due out on November 7th 2008. Broccoli reflected on what her late father, Cubby, would have thought about Craig in the role. "I think he would love Daniel. When Daniel did that scene where he shoots the gun, I burst into tears because that's all I could think of, that 'I just wish my father was here to see him in this role.' Because I think he would have loved him."
Related Articles

Casino Royale Coverage

Martin Campbell On Directing 007

Daniel Craig Press Conference

Official: James Bond 007 #6 is Daniel Craig