| | |
| --- | --- |
| | Chris Cornell spoke on British radio recently about his work on Casino Royale and the process of writing "You Know My Name"... |
Chris Cornell On Casino Royale
21st December 2006
Chris Cornell gave an interview to British radio recently to discuss his work on Casino Royale. He began by explaining how he first got involved with Casino Royale: "I just got a phone call from Lia Vollack who is the head of Sony Music - who does music for Sony films. I had talked to her before, over the years, and had my songs put in films. The question put to me was: "how do you feel about doing a song for the next James Bond film?" There was some immediate panic where I thought "it sounds exciting", but also "this could be a disaster". I had images of Duran Duran climbing the Eiffel Tower, and thinking that I didn't want comparisons, even though I live in Paris half the time!"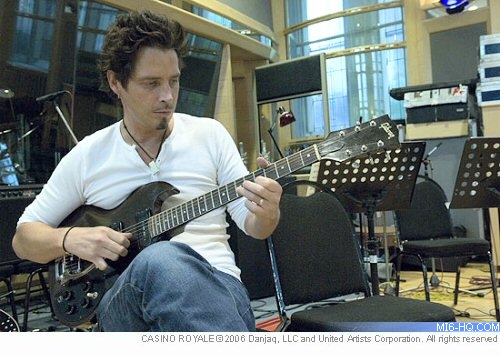 "So, I wasn't sure. I can't remember if I heard that Daniel Craig was the new James Bond before or after I was asked to do the song, but I'm actually a fan. I was a fan of the movie "Layer Cake", and his performance in "The Jacket" is unbelievable. He had dark hair in that and he doesn't look as good with dark hair, he looks much better blonde. I bet you they sat and tried that and realised that. As I was a fan of his already, I thought that [casting Craig] could be a genius move. And I think it was."

Buy Single CD (Amazon USA)
Buy Single CD (Amazon UK)

"Every so often in pop culture someone has a brilliant idea and they kinda have to have the guts to stake everything on it, and they do it - and it's the right move. I had to see a rough edit of the movie to know for sure, and they let me do that. They flew myself and my wife to Prague to see a rough edit of the film from beginning to end of what they had shot at the time, and it was even beyond my best expectations. At that point it changed for me from having trepidations to curiosity to true excitement and anxiety about wanting to do a great job."

Cornell was then asked if he enjoyed full creative freedom during the process: "In my case they hired me and I did what I wanted to do. That's how I've operated my entire career. Also, I think in this case that the producers of the Bond franchise had been doing it forever and they're good at it and they know what they want."
"I didn't realise until I'd seen the first seven minutes of the film that actually I was the right choice for this. Then I could breathe a sigh of relief because I didn't have to go and reinvent me, I just did what I did, and it was the right choice for the movie."
Cornell explained the inspiration he used for the song: "I think the first line of the song is the first several minutes of the film, and that's where the rest of the song lyrics stem from."

"This is not the James Bond we all know and the character is not established. They sort of re-introduce him at the start of every film, but for this one, he's being introduced to himself. He doesn't know who he is yet. He's killing another human being for the first time and going through the emotions that one can only image. And Daniel Craig as a great actor can actually act it from his imagination. That's what made it really easy for me to sink my teeth in to the lyrics and where it came from."



"Obviously, I didn't want to write lyrical content that includes the third act because you're hearing the song a few minutes into the film. But it doesn't take much in term of getting a kernel to write a three minute song. Also, I thought that the title "Casino Royale" would make for an extremely boring rock lyric, and the first question I asked was "what's the title of the movie" because I was telling my wife, literally, "I'll write this in five minutes if the movie title is as good as I hope it will be". And it wasn't. It was "Casino Royale".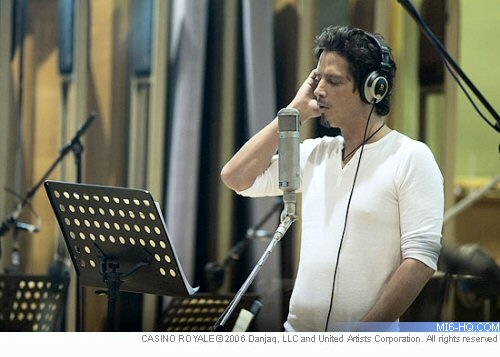 "I've always looked not so much at who are my peers around me but who are the best ever. So, as far as the Bond series goes I was thinking Sir Paul McCartney for who wrote the best Bond song ever. Not wanting to repeat that, but I didn't want to write something that was adequate and disposable. I wanted to write something that people would remember and was a quality song with or without the film, which I think "Live And Let Die" is. If the film had never existed and he had just written that in a vacuum it would still be a classic song."
Related Articles

Casino Royale Official Soundtrack Preview

David Arnold On Scoring 007

Casino Royale Coverage