| | |
| --- | --- |
| | MI6 reports on the New Zealand charity premiere of Casino Royale, where director Martin Campbell and wife Soley were the star attraction... |
Casino Royale New Zealand Premiere
1st December 2006
Even before the doors were due to be opened at 6.30pm for the New Zealand premiere of Casino Royale on 30th November 2006, Bond fans and charity supporters alike were queued down a busy Auckland street. Some chatted about the evening to come and others admiring the DBS located in front of the cinema. The majority of attendees had brushed off their tuxedos and straightened their bow ties in order to be a contender for a host of "best Bond gal" and "Best Bond guy" prizes.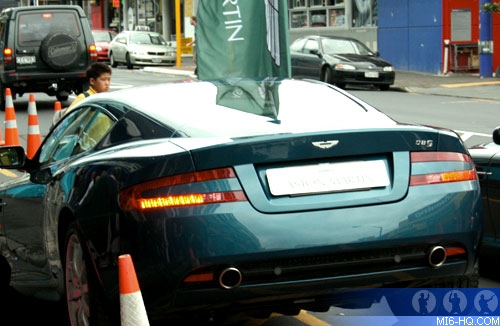 Preliminary Events
The doors were opened promptly at 6:30pm and the gathered crowd ushered into the spacious cinema foyer. Waiters were on hand with Bollinger and oysters, but many chose to "prop up the bar" where they serving martinis on the house – shaken not stirred of course!

Attendees mingled among local celebrities, including internationally recognized Temuera Morrison ("Star Wars", "Once Were Warriors"), eagerly awaiting the arrival of director Martin Campbell and the show to commence.

At 7pm the show began, but without Campbell, who was running late. However, the hosts assured an eager crowd that he would be arriving shortly. Prizes were dished out to the best-dressed Bond girls and guys.

One guest arrived just in time to be considered, dressed in a full wetsuit – but needed a prompt from the audience when asked "which film she was from". Cries of "Thunderball" rang throughout the room!



Bondian Fashion & Bondian Interviews
Up next was a Bond themed fashion show, with models showcasing the most "Bondian" lingerie and swimwear New Zealand designers had on offer, while the competition winners played roulette with the celebrities and models… Finally a reluctant Temuera Morrison was ushered onto the stage by a model to discuss Bond.
"I asked Martin if he would ever consider a Maori Bond. [Laughs] He said 'No!'"
Spot prizes were dished out to the first people to call out the answers to James Bond trivia and then a Bond themed charity auction commenced. James Bond Ultimate Edition DVDs, a 007-themed Omega and an Aston Martin DBS weekend were all sold to the highest bidder.
Finally, New Zealand born director Martin Campbell made his entrance along the catwalk, to immense applause. After being introduced, the host asked him how it felt to be in back in New Zealand for the premiere of his new film. Campbell told the crowd, "It's better than the Royal Premiere we had in London." And his lovely Soley mentioned to the host this was her first visit to her husband's homeland.

When asked about his upcoming productions the director said he would be taking a well-deserved break…

"I'll be directing myself with a book on the beach."

And, for a final question, Campbell was asked if he had a favorite Bond film… he replied that he did, and it was Goldfinger!

"You'll be directing the remake?" enquired the interviewer, to which Campbell just laughed.
At 8pm the crowd's martinis were topped up and over 300 fans were ushered into 4 cinemas! The audience laughed at Bond's brilliant throwaway puns and winced at the psychologically shattering torture sequence and most importantly, applauded at Craig's "Bond… James Bond."
An entertaining night out for all! The film opens nationwide in New Zealand on Thursday 7th December 2006.
Next up... Daniel Craig and Caterina Murino will be the stars of the show at the Australian premiere in Sydney on Monday 4th December 2006, three days ahead of general release. Martin Campbell and producer Barbara Broccoli will also attend.
Related Articles

Casino Royale Coverage

Casino Royale World Premiere Report