| | |
| --- | --- |
| | Go behind the scenes of the "Another Way To Die" music video as Jack White and Alicia Keys discuss the song and the new James Bond film "Quantum of Solace"... |
Making The "Another Way To Die" Video
4th October 2008
Whilst filming the music video to their "Another Way To Die" in Toronto recently, Jack White and Alicia Keys discussed their new song for the 22nd James Bond film "Quantum of Solace" and their inspirations.

Talking about the song itself, White said, "The whole song is about trust. After reading the script, I started to focus on Bond and his inability to trust anyone, even himself. That's where I wrote it from. Then I had the idea of Alicia being involved and us doing a duet, and that got me on to having male and female takes of the same idea."

Keys explained why she accepted the assignment: "When the idea of collaborating with Jack White on this theme came up I was very excited because I'm a very big White Stripes fan, and I've always wanted us to work together. I thought it'd be interesting and different to see our two styles collide"



Above: Alicia Keys and Jack White (top)
White was extremely positive about his collaborator. "She's incredibly soulful and incredibly powerful with her voice," he said. She takes a lot of chances, too. She doesn't really do cookie- cutter pop music. She puts things in to compositions which aren't the safe way out. She takes control and takes a chance and forces a lot of things in to song that wouldn't normally be on the radio. I like people like that. She's immediately interesting to me. When we got together in the same room it was so inspiring. Usually something interesting happens when you take people from different realms and put them in to something completely new. We're both coming to the world of Bond from different places, so we both had our eyes wide open, seeing where we were going to go with this."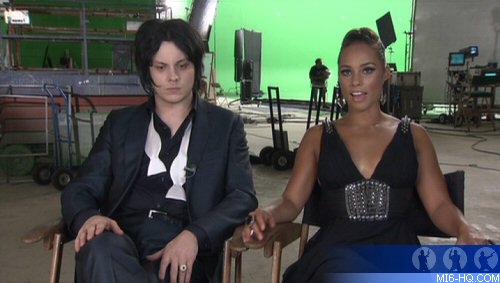 "It is special to me to be part of the Bond world.
It is it's own universe." - Alicia Keys

Looking back at the history of the series, White said, "I was a big fan of John Barry's compositions and Shirley Bassey's performances... So we had it in our minds that if we're going to do this then we have to join that world - so that's aim for that. That's a high bar and it was raised 30 or 40 years ago. It's tough to live up to that, so you don't try and top it, you just try and join that world." Keys agreed with White on Shirley Bassey saying, "her voice was super powered, I'd love to be among her company."
| | | |
| --- | --- | --- |
| White and Keys also discussed the inspiration behind the video. "We saw some clips from the opening sequence of the new film", White said. "That's what really inspired me for this video. When I got together with Alicia we decided to get the guys who directed that to do this video too. I just kept imagining those striking Bond images, those silhouettes, the shadows and the desert." The video was directed by PR Brown of MK12, the same group director Marc Forster brought in to create the graphics for the film's title sequence. It was filmed in Toronto and produced by Mick Ebeling, Sheira Ress-Davies and Jane Tredget. | | Above: Jack White and producers review footage |
On the subject of the Bond theme and its use, Keys said, "I'd say that the Bond theme is totally throughout the song, but in a new way with variations, especially with the horns and the lines that the piano and the guitars play. It's all themed around Bond but in a slick style.
White was enthusiastic about the direction the series has taking since "Casino Royale" debuted in 2006. "I'm excited to be part of this time period of Bond," he said. "I think Daniel Craig is the most exciting thing to happen to this period of film, and he's bringing something very fresh to it. So are the directors as well, they're taking a totally different look at this Bond character."
Keys got a chance to see the movie a couple of days before shooting the music video. "It just starts BAM! with a crazy car chase", she teased. "Things are spinning out of control and then when it's all over he opens the trunk and then the song starts! It's crazy! I did start screaming in the theatre, I was personally excited."
"I've been an incredible fan of James Bond theme songs
since I can remember." - Jack White
"Another Way To Die" Released

"Another Way To Die" Announced