| | |
| --- | --- |
| | MI6 looks back at the launch of "Quantum of Solace" exactly one year ago, and its impact with critics, fans and home video release... |
Quantum of Solace - One Year On
29th October 2009
One year ago exactly, James Bond's 22nd silver screen mission from EON Productions, "Quantum of Solace", debuted at the Royal World Premiere in London, UK. Although the event used two theatres, down from three for the previous outing "Casino Royale", Leicester Square packed to capacity once again on Wednesday 29th October 2008. The Odeon hosted the Royal half of the premiere, with the adjacent Empire cinema used as overflow - but both were linked with a simulcast live video presentation during the build-up.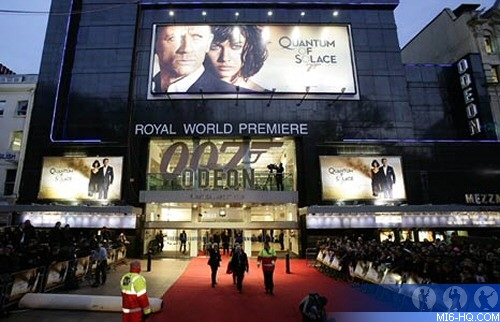 Prince William and Prince Harry provided the Royal quotient to the evening, which had already raised over half a million Pounds for their chosen charity Help For Heroes when producers Michael G. Wilson and Barbara Broccoli came on stage at The Odeon to introduce the cast and director Mark Forster. By the time the curtain came up on the film it was 8:30pm and the London Film Festival screening that was originally intended to follow the Royal premiere, also in Leicester Square, ultimately overlapped.
After the screening, the bash was brought to Battersea Power Station for a no-expense spared one million pound after party that ran in to the early hours of the morning.

A whirlwind tour of major cities across the world immediately followed, with the principal cast sometimes splitting up to cover multiple countries in the same evening. Paris, Oslo, Berlin, Amsterdam, Lucerne, Rome, Valencia, New York, Sydney and Tokyo all saw glittering events to celebrate the opening of the film.

Critical Aftermath
"Quantum of Solace" did not receive as positive a reception with the critics and fans alike as its predecessor. Whilst "Casino Royale" scored an amazing 94% on the critics average at Rotten Tomatoes, it's much anticipated follow-up did not live up to expectation with the trade reviewers, scoring only 64%.

On the fan side of the debate, it was a similar story but narrower gap between the ratings with IMDB users scoring 8.0/10 and 6.9/10 for "Casino" and "Quantum" respectively.
Home Video Release
With the gap between world premiere and DVD release shrinking every year, it was no surprise that "Quantum of Solace" saw the earliest home video release of any Bond film to date. Debuting on March 24th in the USA, Daniel Craig's second outing as 007 went head-to-head with the massively popular vampire flick "Twilight". Bond performed less than expected and bowed at #2 in the US for total DVD sales with an estimated 1.2 million copies, but topped both the Blu-Ray chart and video rental chart for the week. The Blu-Ray edition of "Quantum" accounted for an impressive 28% of the title's total sales. The film currently ranks #14 in overall DVD sales in 2009.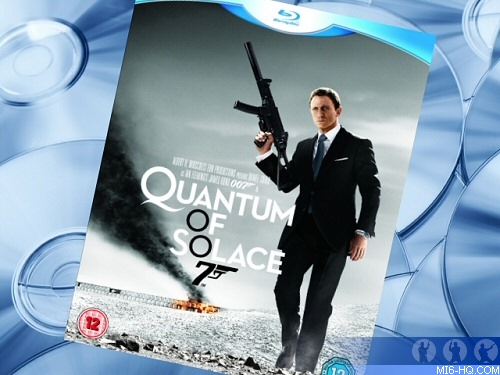 "Brutal and breathless, Quantum Of Solace delivers tender emotions along with frenetic action. Not as good as franchise reboot Casino Royale, but still an impressive entry to the
Bond canon" - Rotten Tomatoes Consensus
Back in his home country, Bond arrived a day earlier and landed straight at #1 and #2 on the UK DVD and Blu-Ray chart respectively. "Quantum" become the UK's biggest-selling DVD and Blu-ray release of 2009 (so far) selling 522,926 units on DVD and Blu-ray combined on its first day of release. Around 10% of those UK sales were on Blu-ray.
Compared to "Casino Royale" which shifted 3.6 million DVDs in its first month, and 5 million copies to date, "Quantum of Solace" lagged in the USA with only 1.9m after one month. An increase in Blu-Ray sales dented "Quantum"s DVD figures, but probably not the studio's profit margins as the high-def versions often retailed for double the standard DVD price. Total sales to date for "Casino" and "Quantum" on DVD in the USA are pegged at $79m and $43m respectively.
Now a year on from initial release, "Quantum of Solace" is consigned as an entry in the series rather than a new, fresh movie in many fans minds, with thoughts turning to Bond 23 which starts filming in late 2010 for an expected Holiday season 2011 release.