| | |
| --- | --- |
| | Shooting for Bond 22 starts this week in the historic Tuscan hill town of Siena, Italy to capture scenes of a traditional bi-annual horse race... |
Bond 22 Pre-Production Diary (5)
13th August 2007
According to a report in The Times, the 22nd James Bond film (due out 7th November 2008) will reach its climax in a chase against the background of the Palio, the centuries-old and controversial bareback horse race in the historic Tuscan hill town of Siena, Italy.
As the race is only held twice a year, cameras are due to roll on Thursday 16th August, when the Palio will be run. Whilst the plot is being kept under wraps, the town council at Siena has given permission for a climax in which James Bond chases the villain through the steep and narrow cobbled streets and then pursues him across the rooftops and through the underground medieval aqueducts, while the horses thunder round the Campo, the main square. There is no indication that Bond himself will be riding any horses during the film. Furthermore, filming this week will focus on the race, with scenes involving actors inserted later. There will be 14 cameras placed at strategic positions around the arena but helicopters have been banned.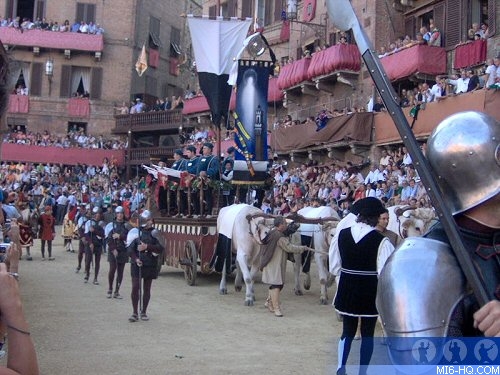 The Times reports that film-makers have agreed to "strict conditions" obliging them to treat the race with "full respect", according to Il Giornale. They are forbidden from showing any violence "involving either people or animals" that may occur. It is this violence that animal rights campaigners regular protest against, and activists have seized on the disclosure of filming that would " glamorise a race that was a relic of medieval brutality". They say that 50 horses have been killed since 1970, with many others injured. Eleonora di Giuseppe, spokeswoman for the Italian Federation of Equestrian Sport, said yesterday that using the Palio in a Bond film would glamorise a race "in which horses are exposed to unacceptable risks".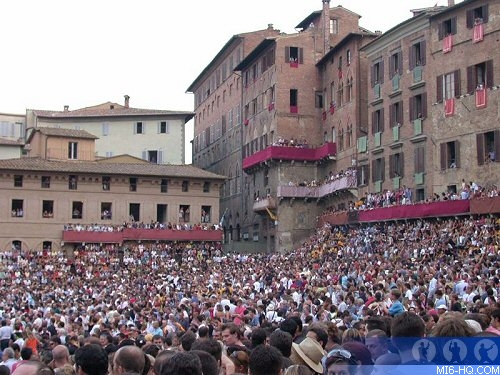 The Palio is held twice a year, on festivals dedicated to the Virgin Mary – July 2, the Feast of the Visitation, and August 16, the day after the Feast of the Assumption (Ferragosto), the Italian August bank holiday. The brief and intense Palio, run on packed sand in the Campo, is not a tourist attraction but a fiercely cherished part of the Sienese way of life dating back to the 11th century. It is preceded by weeks of build-up and colourful pageantry, with each horse representing one of the 17 contrade, or city guilds. The Campo is always packed with tens of thousands of spectators in an atmosphere bordering on hysteria. In the morning the horses are blessed in their contrada's churches. The race runs for three laps of the Campo and the winner is awarded a palio, a banner of painted silk.
Bond 22 is shaping up to be a European adventure, as MI6 reported last month that location shooting could also take in an impressive Opera set in Austria and a ski sequence. The majority of filming will take place at Pinewood Studios in the UK.