| | |
| --- | --- |
| | Director Marc Forster confirms some details on the 22nd James Bond film, and MI6 reveals how British actress Gemma Arterton landed her role... |
Bond 22 Pre-Production Diary (22)
30th December 2007
Director Marc Forster has confirmed some details of the 22nd James Bond film in an interview with Swiss newspaper SonntagsZeitung. Principal photography will commence on Thursday 3rd January 2008 - a day earlier than previously stated by Daniel Craig.
Forster says he aims to further develop Craig's interpretation of Bond where he left off in Casino Royale. The film will be more of a journey into 007's inner-being than a globe-hopping trip around the world, as Forster explained: "When Bond began in the Connery days, travel was a luxury not everyone could afford. Today, the world has become smaller. If Bond goes to a beach with palm trees it's almost banal now. The only interesting trip remains the journey inwards, deep in to the psyche".

When asked if he was anything like his predecessor on the series Martin Campbell (who directed both 007 debuts "GoldenEye" in 1995 for Pierce Brosnan and "Casino Royale" in 2006 for Daniel Craig), Forster says he does not even shout "action" - he leaves that to his assistant - adding that some directors like to do things quietly and in private, whereas others shout at actors to get good performances. But he admitted that he became a bit louder on his last film "Kite Runners".

The Swiss director, who says he's never really helmed an action picture before, said audiences should be prepared for a few surprises in this outing.


Above: Director Marc Forster

Forster said the producers have not blocked any of his ideas yet, except a couple which were not possible as they were too expensive. "Financially, there are limits - even on a Bond film", he said, "otherwise, I have been able to realise my vision".
Some locations have been on-again off-again rumours during the build up to shooting, and Forster confirmed that two or three countries were long-standing contenders. When the script was bolted down by Paul Haggis however, locations like Switzerland were no longer possible. Despite not traveling to his home country for filming, Forster managed to cast actor Anatole Taubman, who also grew up in Switzerland. Forster admitted that he hadn't known Taubman or any of his films before the audition, and he won the partly purely on merit and not any Swiss-connection. In an interesting admission, Forster said that he would have liked to have cast Bruno Ganz as the main villain, but couldn't as the French actor Mathieu Amalric had already signed on for the role.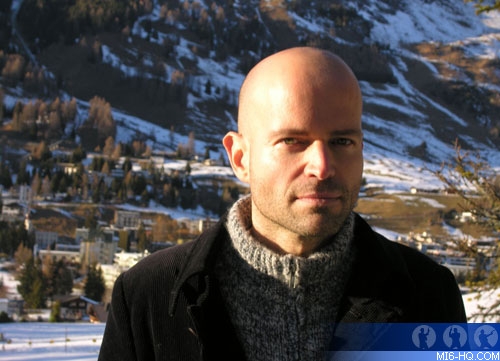 British Bond Girl For 22
MI6 has learned that British actress Gemma Arterton may have indeed secured a role in Bond 22. She was first rumoured by the UK tabloid The Sun in early December, when the paper said the 22 year-old RADA actress - who will next be seen on the big screen in "St Trinian's" alongside Caterina Murino of "Casino Royale" fame - saw off 1,500 girls to land the part. Gemma reportedly sent her mum Sally a text saying: "I got Bond!" A few days later, Empire Online claimed that an inside source had 100% certainty she had a role in the film. Unlike the misleading headlines however, she is unlikely to have landed the major Bond Girl role due to the extensive casting searches for a Latina actress from South America. Bond 22 will also be partly shot in Panama and Bolivia.
MI6 understands that Gemma Arterton has indeed landed a role, thanks to her agent Sally Long-Innes who also represents 007 himself - Daniel Craig.

Arterton said that it his her agent that has helped guide her rise to fame, and taking a part in Bond will help her land other roles.

Arterton explained, "[My agent] said 'If you do this big film, it will open the doors for all these other brilliant things. But you have to do the big film first'. It's like the Keira Knightley thing: everyone ridiculed her for doing the Pirates films, but she's getting great parts now. She can choose whatever she wants."

"I think it's difficult for a young girl like me, because there's a certain time for young actresses, which is like a really juicy period when all the parts are love interests and young heroines. Of course, there's always work for men whatever age they are. So I'm really going to go for it. And if it all goes wrong, I'll go and do panto!"
News Wrap
Mathieu Amalric talked again about his upcoming role as a villain in Bond 22. In an interview with French magazine Première, Amalric said his character will be called Maurice Green. When describing his role he said he preferred the English word "villain" rather than the French "méchant" ("nasty").
Mexican actor Joaquin Cosío (pictured opposite) has now confirmed he will play a baddie in the upcoming film too. "There are several antagonists [in the film] and I am one of them. I play General Medrano, the enemy of Bond in Latin America, although there are other villains who are Europeans." Despite landing the role, secrecy still surrounds the script and production plan. "I still do not know the [shooting] order, I do not know exactly how my scenes are going to work, but I understand that I am going to shoot in Panama, Bolivia and London." He also confirmed that the shooting will be in English. This is the first confirmation that production will be heading to the South American country of Bolivia, along with Panama.

Some filming for Bond 22 will take place at The Barbican in London next week. A sign has gone up giving warning that next week it will be the venue for a scene from Bond 22 in the Sculpture Court where a man will be filmed talking on a mobile phone. Daniel Craig is not expected to be at the locale.
Actor Tobias Menzies has confirmed that he will not be returning in Bond 22 to reprise his role as MI6 aide Villiers from "Casino Royale".For Daniel Craig's debut outing as 007, Villiers was M's right-hand man in MI6, the Houses of Parliament and out in the field in the Bahamas. Menzies wrote on his blog, "Sad news for all Villiers fans, he is no more! Casino Royale was his first and last stand. May he rest in peace."