| | |
| --- | --- |
| | MI6 rounds up the latest "Quantum of Solace" news, including release date changes, Chile locations, and a teaser from the new Bond girl... |
Production Diary (17)
19th March 2008
Bond Bows In Britain
The next James Bond film "Quantum of Solace" will open in the UK a week ahead of its USA release and originally planned schedule. Sony Pictures Releasing will open Daniel Craig's second outing as 007 to UK audiences on 31st October 2008. It arrives Stateside on November 7th as planned. No changes have been made to any release dates aside from the UK. Click here for a complete list of all worldwide release dates.

Above: Mathieu Amalric, Olga Kurylenko, Daniel Craig and Gemma Arterton
Chile Location Filming
Accompanied by an entourage of bodyguards, actor Daniel Craig will arrive in a private jet to the Chilean city of Antofagasta on March 24th to film scenes for "Quantum of Solace", according to reports. Craig, who requested a hotel with a sea view, will be giving a press conference on March 26th together with the German director Marc Foster. The filming will start the following day in Observatorio Paranal, the first of four locations. After the first scenes the film crew will shoot in the nearby towns of Cobija, Baquedano, and Michilla.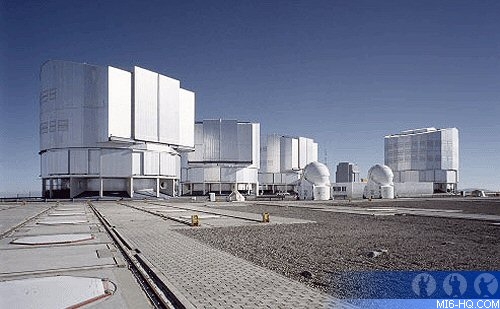 Above: The Observatorio Paranal - an astronomical observatory,
located 120 km south of Antofagasta, Chile
One of the locations used in Chile will be the desert of Atacama in the north of the country, more than 1,300 miles from Santiago. Sources would not specify the precise locations where the shooting will take place, but the scenes are expected to involve "a lot of action", which includes a landing of a plane in the middle of the desert. Principal cast members confirmed for the shoot include Bond girl Olga Kurylenko (Camille) and villain Mathieu Amalric (Dominic Greene). The shoot and will involve 210 foreign professionals and other 105 Chileans. The production is expected to spend 12 days in Chile.
A Welcome Distraction
New Bond girl Olga Kurylenko has given a cryptic hint at how her character's relationship will develop with 007 in "Quantum of Solace". Speaking in a brief sound bite, Olga said:

"I think James Bond still carries Vesper in his heart. Camille might be there to distract him... But maybe not!"

Previously, Olga has said of her character, "James Bond is after revenge, and Camille is after revenge. They have slightly different goals, but in the end, they are going to have to collaborate."

"She will be very different. She's a fighter. She's on her own mission. In the movie, he is obviously still attached to his past. The appearance of this new girl might divert him. Or, it might not."


Above: Olga Kurylenko plays 'Camille'