| | |
| --- | --- |
| | Stunt Coordinator Gary Powell talks about throwing Daniel Craig in to the thick of the action in "Quantum of Solace"... |
Gary Powell On Putting 007 In Action
29th November 2008
The producers promised "Quantum of Solace" would have twice as much action as "Casino Royale", for Gary Powell that meant twice as many stunts. He talks about working with the director Marc Forster. "There is as much action in the opening sequence as you have in the whole of "Casino Royale". It has actually been good working with Marc because he comes to the table with a totally different thought process. In particular, it works because I want to do these stunts for real and he wants his film to look as real as possible. He wanted to use Daniel Craig as much as possible rather than use a stunt double. Then it's down to me to say if that works or if we can use a double instead. There are certain things you can't allow Daniel to do. "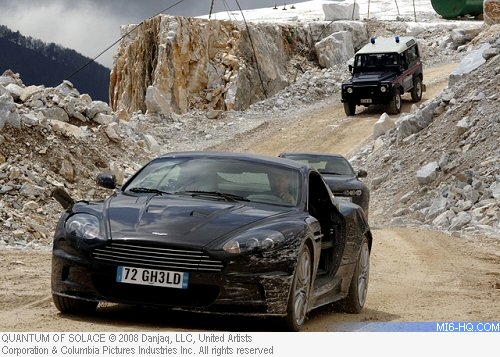 Daniel Craig is always keen to do as many of his own stunts as possible and Powell has always been impressed by his capabilities. "We had already worked with Daniel on "Casino Royale" so, when we got him back again, we knew what he was capable of and it made our training process much easier, we just carried on from where we left off and got straight in to it. I don't mind Daniel doing the fight sequences himself, he knows there is a chance he could get punched in the face or he could punch someone else. When you are doing stunts at that speed there is always that risk. Daniel knows the risk and will decide if he wants to do it – 9 times out of 10, he does!
"Daniel did a lot of his own stunts on "Casino Royale" but on this, he is doing even more. He is in a building full of fire, there are fire balls exploding behind him, fire balls in front of him, he's landing on fire, sliding across the floor on fire but you know he can do it, he is more than capable."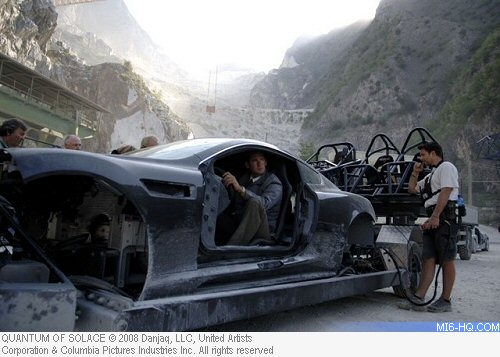 Powell choreographed all the fights in "Quantum of Solace", he explains how the action has to suit the character so it is believable and assists the storytelling process. "When we first got Mathieu and started training with him we knew he had a big fight sequence with Bond at the end of the film, it was going to be a fight to the death. Very quickly we could see that he was not a technical fighter, he was a messy fighter, so we adapted the fight to suit his style and then fit that in to the character. When he is fighting now, he is getting the better of Bond, not because he is a better fighter, but because he is a maniac. He is coming at Bond in a frenzied attack, kicking, punching, screaming, hitting him with bars – he's a dirty fighter.
"Olga's [Kurylenko] character is an agent so she is military trained and we had to push her to that standard - it was tough for her but she really came up to the grade. In a way, she had the hardest fight to do because she fights General Medrano who is twice her size, if not more. Marc was concerned it wouldn't work but we trained her hard and it does work. We are very proud of her progress."
Working closely with actors who may not have trained before involves more than physical strength, Powell explains; "As well as physically, you have to prepare the actors mentally. We know at the end of their first month of training, if not before, they are going to wake up in the morning and not want to get out of bed, they will be aching and tired. We need to prepare them for that. When you are training actors, everyone has a bad day. We need to coach them and prepare them because it happens to everyone but the likelihood is, they will come back the next day and be twice as good."
The stunt team need to work with every department on the film unit, Powell explains; "When we are designing stunts, we work with costume, hair and make up, special effects – everyone has to be involved and communicating from a very early stage. The costume department may want a certain look that I may have safety issues with, for example, if we are working in fire, I don't want the actress in clothes that won't work in that environment. With makeup, we need to tell them if after a fight, Bond would probably have a cut above his eye and a bruise on his left cheek.
"Stuntmen must have an overall sense of the film and work to eliminate as much of the danger and risk from a stunt as possible. When Daniel is running down a corridor with explosions and fire, I need to discuss with Chris [Special Effects Supervisor] where Daniel will be when the explosions are fired. The special effects team need to time everything exactly and Daniel needs to hit his mark exactly. If he over steps his mark he could end up in a fire ball – there is a massive amount of trust and hard work involved from everyone."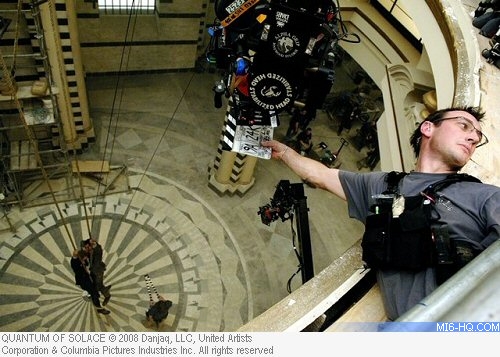 James Bond's car of choice, the Aston Martin DBS, makes a welcome return in "Quantum of Solace". In order to make the cars work in the Italian car chase sequence, Powell had some minor alterations made. "We have seven Aston Martins, they are rigged for two different surfaces; the road surface and the quarry surface which is loose gravel. We have stiffened the suspension and pushed the wheels out at an angle and used specific tires for each surface. We take all the traction control off the cars so, when we want to do a big wheel spin, the car will allow you to do it. That way the stuntman controls the car rather than the car controlling the stuntman. In the Aston we have put a hydraulic hand break in the car so the stuntman can use the hand break to spin the car round corners. The hand break is fitted in between the driver and the door so that it's easy to reach for without looking down."
To film Bond and Camille's jump from the DC3, Powell chose to film the inserts of Daniel Craig and Olga Kurylenko at a training facility called Bodyflight. 'Flying' in the wind tunnel simulates the experience of freefalling, Powell explains; "When the idea first came about we were planning on having a parachutist do the actual freefall and insert images of Daniel and Olga's faces with visual effects. I wanted to use Bodyflight rather than put the actors on wires with a wind effect so we went there and did video tests. Marc watched the tests and liked it so much he decided to do the whole parachute sequence in there. We filmed Daniel and Olga for a whole day and it looks really good, because it's them for real doing the fall. You wouldn't get the moves they were doing on wires so we were really pleased with the outcome."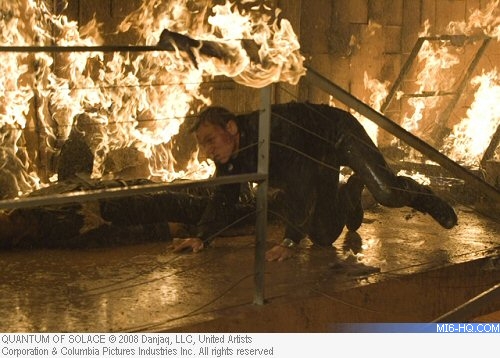 Another huge stunt sequence in "Quantum of Solace" is the boat chase, filmed in Colon, Panama. "The boat chase sequence got changed very late and Simon Crane [additional unit director] and me dreamt up a whole new sequence and rehearsed it very quickly. It was originally supposed to be quite a small set piece. We got there and decided to make it as big as we could with what we had, and that's what we did. From one side of the Panama Canal to the other we shot the chase, ending up on an island for the finale. Working on the Panama Canal was difficult because it's not a lake, it's choppy with hundreds of 1,000ft long boats in your way and the water is changing all the time. You are trying to do precise turns and you are being dictated by the water so you can over shoot your mark by 10 or 12 ft. It was tricky, technical sequence to film."
Gary Powell talks about working with the 'The Bond Family'; "I've been lucky, I've worked on some great productions with some great producers, but Bond is a family business. When you are on the set, you are not just a crew member you are part of the family. Barbara's [Broccoli] father started it all off with "Dr No" and she and Michael [Wilson] are carrying on his work. As producers, they have the job of keeping the film within budget but they trust their crew and will do their utmost to give you everything you need to do the best job you can for the film."