| | |
| --- | --- |
| | British actress Gemma Arterton talks about landing the role of Agent Fields in "Quantum of Solace" and joining the long line of Bond Girls... |
Gemma Arterton Interview
12th November 2008
British actress Gemma Arterton plays Agent [Strawberry] Fields in "Quantum of Solace", an MI6 operative stationed at the British consulate in Bolivia. Just after filming wrapped, she talked about how she landed the role and what it was like to join the long and illustrious ranks of Bond Girls.

How did you get the part in Quantum of Solace?
Well I met the casting directors for another job that I didn't get. I was up for a Russian part and it was such an awful audition I was like 'this is crap, isn't it?' (laughs) And we laughed about it and I thought I'd never see them again. And then I was doing a play at The Globe, Love's Labour's Lost and I was playing quite a haughty type of character and the same casting directors came to see it. My agent said 'you know they are casting the Bond film?' and I thought 'oh God, this is funny after that awful audition I did for them.' And I did get called in for an audition but at that time I didn't know which part I was up for. I didn't think I'd hear anything but then I was called back for a second time – I hadn't actually seen a script at that point, because it's all top secret with Bond, so I did a scene from Casino Royale.

What happened after that?
I was called back for a screen test with Daniel.
Did you know him?
No, I didn't. I'd heard a lot about him because we share an agent. But I first met him at the screen test and I was nervous and trying to funny and said something that I thought might break the ice but wasn't funny. And then I thought 'oh no, I've lost the job..' but in the end it worked in my favour because we got on very well. We share that same very British sense of humour and wit and that was really nice when we were on set. I take the piss out of him all the time and he loves it and he takes the piss out of me (laughs). We got on really well and that worked so well for the characters. And with Daniel it's nice to have someone so grounded and down to Earth involved with something so huge like that. He's such a lovely guy.
Who did you call first when you knew you'd won the part?
I sent out this huge text message to my family and close friends but the thing was, I asked my agent 'am I allowed to tell anyone?' Because it was all top secret. I did tell my mum and dad but I was like 'don't tell anyone!' But obviously it got about and then we had the St Trinian's premier the next week and people were coming up to me and asking 'is it true you are in the Bond movie?' But we did try and keep it under wraps, which was hard because you want to shoot it from the rooftops because you're so pleased.
What was Mum and Dad's reaction?
Well with Bond it's mad because everybody knows it. With other parts I've been so excited to get them and they say 'oh that's great' but because they don't know what the story is they weren't quite as excited as I was. But with Bond they were just so happy for me and they still are amazed and quite bewildered by it, too. Because you never think you are going to end up in anything like that but they are absolutely thrilled for me.
What was the preparation like?
Olga Kurylenko (who plays Camille) does all of the action stuff. My character is an MI6 agent but she's more of a Miss Moneypenny type of character, she is kind of office girl, quite prudish and priggish but she has a twinkle in her eye and she is cheeky and charming. She is kind of the antidote to the action and provides a bit of comedy. There's some lovely banter between her and Bond. I think she's a typically Ian Fleming type of character.
And does your character get intimate with Bond?
She does, yeah. She has a bit of canoodling with him! (laughs). A bit of a smooch. And that was another surreal moment in my life, I'll tell you.
The filming took in some exotic locations. Did you get to visit any of these places?
Some of my stuff was at Pinewood Studios and then I was in Panama for about a month because my character meets Bond in Bolivia and we used Panama for Bolivia. Panama is a weird but fascinating place. It's developing and there are areas where there is huge wealth with these amazing properties and they are next to areas that are very poor, so that was quite weird. And when we were there, there were riots and workers striking and guns going off and people getting shot and all sorts of things. And also it was very humid, quite oppressive and dusty and that was really great for the film, but when you are out in that intense heat it can be tiring. But we had such a laugh out there. I loved it. My attitude is to turn up and do it and not take myself too seriously because then I can enjoy it. And I think it worked for my character, because there is a fun aspect to her, she is fun and cheeky and that wouldn't have worked if I'd been too nervous.
So your ethos is 'just do it' and not over analyse it?
Absolutely. And you can't with a character like that – she is what she is, she is funny, she is a Bond girl and there was nothing to worry about, really. The only thing I was worried about was other people thinking 'can she do it?' But then you just have to show them, don't you. And it was great – a good laugh.
Have you grown up watching the Bond films over the years?
Yes I have although I've never been like a die-hard fan and I was brought up in a house full of women so it was never a huge thing for us. But I always remember the look of them and the iconic images from the films. And they seemed to be on a lot – they were part of our lives growing up. And you always see those fantastic images in the magazines and they are timeless. And then I saw the last two Pierce Brosnan films in the cinema and I saw Daniel in "Casino Royale" in the cinema as well – so I started to watch them properly then. I actually sought them out as opposed to them being on TV.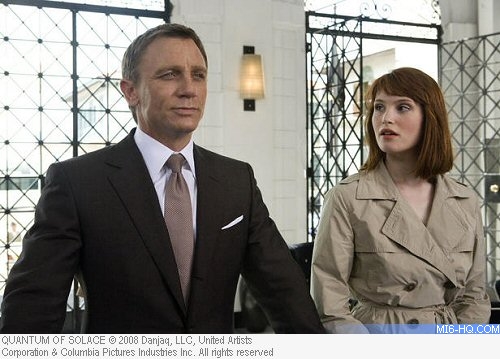 What did you think of Casino Royale?
I really loved Casino. I went to see it with two guys, friends, and they were a bit pessimistic about it at first – probably because Daniel had a really fit body and they were a bit jealous (laughs). I think guys have this thing, they either want to be James Bond or they don't like him because he gets the women and he is so cool and clever. And I remember sitting there thinking 'this is brilliant, this is a brilliant film.' I was so impressed and then when I got the part I was thrilled – it's a brilliant time to be in a Bond film. I think they did a fantastic job with Casino – the film stands alone, you don't need to know anything about the history and it had so much to it, with the love story and everything. And the guys I went to the cinema with absolutely loved it as well.
Do you think that being in Quantum of Solace has already had an effect on your career?
I think it helped with getting my name about, definitely. I think people sit up and pay attention and go 'oh OK..' I got quite a lot of work before that but I think Bond makes people listen.
What sort of clothes does your character wear in Quantum?
I'm glamorous but I don't think I'm hot glamorous. There was this thing with my character where we wanted to make her really retro and a bit of a throwback. I can't reveal her first name yet but it's typically Fleming and quite cheeky and a little bit tongue in cheek. So she wears a typical Mac (raincoat) and yet in one scene she hasn't got anything on underneath (laughs). We tried to make her straight laced but with a real naughty edge to her. She has this mad hair do which looks like I've done myself. I wanted her to look kind of clumsy but with a lot more going on beneath the surface. I think the thing about her is that she is desperately trying to be proper and correct but doesn't quite succeed so she looks a bit odd (laughs). And she looks a bit dishevelled.
Did you have some input in creating the way she looks?
Yes, along with the costume department. When I was approaching the character, working out what I was going to bring to her, I felt that in the past some of the Bond girls were such strong characters that you didn't feel you could actually know somebody like that in real life and therefore you can't connect with them. So I wanted my character to be a girl from down the road who does this job – we don't know exactly what she does but she goes to work every day - and comes back and she goes down the pub at the weekend and has a drink. You'd have a chat with her and at first you might think she was a bit of a snooty bitch but she's actually quite nice when you get to know her. And I wanted to make her real. She's not hot but I hope there's a charm to her. I'm not sure whether she'll be the Bond girl who the boys pin up on their walls but they might say 'I don't know what it is about that Agent Fields, but I quite fancy her!' She's the thinking man's crumpet. (laughs).
What have you done since finishing Bond?
I did a BBC production (mini series) Tess of the D'Urbervilles and played Tess, which was just brilliant. It was so nice to do something like that because obviously my part in Bond was huge fun but quite straight forward and obviously Tess was quite a contrast – a huge, massive, fully rounded emotional journey I had to go on so it was nice to throw myself into that. And then I did a Richard Curtis film called The Boat That Rocked – it was only a fleeting cameo really but it was nice. I like to vary things and every part I do is very different so it was nice to throw that in as well. And obviously I've just started working on Prince of Persia, which is huge. It's a 20 week shoot and we film in Morocco and we finish up in Pinewood again.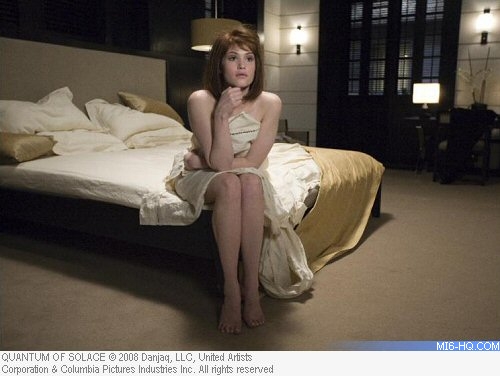 "Prince of Persia: The Sands of Time" is the blockbuster produced by Jerry Bruckheimer and starring Jake Gyllenhaal. That's a big film – you're on a roll.
I can't believe all of this is happening – it's mad stuff! (laughs). I've been in Madrid learning to horse ride for the last few weeks and then back in London for some training. It's an action romance – a bit like Indiana Jones meets Gladiator! It's set in the 6th century so there are lots of Sinbad style costumes, which I love. And it has a great cast, with Jake and Ben Kingsley and Alfred Molina and a fantastic director, Mike Newell, so I think it's going to be great. I'm very excited. I'm the only girl in the whole thing. I'm the hot totty in it – which freaks me out! (laughs) I can't believe I'm going to be the girl who has to get the bums on seats. But since Bond it's been crazy.
Do people recognise you more now?
No, not really and I think a big part of that is that first of all 80 per cent of what I've done hasn't been released yet and I look so different in all of them that I don't even recognise myself. In Bond, I've got red hair and pale skin and in Tess I've got hair down to my waist. I like doing different accents and playing totally different characters - that's part of the fun of the job. I don't really see myself when I'm on screen and that's nice because people don't really see 'you' and I can walk down the street I can get on the tube, get the bus and have my life. I think in England it's different anyway, I think people mostly leave you alone and I sort of hope that it stays like that.
Who is your favourite Bond?
Oh definitely Daniel. I do love Sean Connery but I just think Daniel is so good and he's our Bond, isn't he? By that, I mean, he's the perfect Bond for this time. He's a brilliant actor and fantastic in the part. And it's great working with someone who is a proper actor. He really is such a bloody brilliant actor and he makes things work and he makes them real and it's really nice to work with him.
So Quantum was a good experience?
Yes it was. And everyone made it so memorable for me. It's like a big family on set and everyone is so excited to be working on a Bond movie so there is such a good vibe. And the producers are lovely and are constantly looking after you. The film is so important to them, they are keepers of the flame, and it's a family thing for them, too.
Marc Forster is an interesting choice to direct a Bond film, don't you think?
He was absolutely brilliant. He is so chilled out. I think he was a great choice to direct this. His work has been so varied – every film he does is different so you can't put him in a box as a director because he can do so many different things and that's exciting. When I was working on the film he just trusted me to do things with the role, he let me play around and be funny with the character and I think that's quite something and very admirable when you are working on such a big film like this, to be so playful with it and chilled and to say 'maybe Gemma's humour will add something good to this.' is just fantastic. He never shows any signs of stress and he just let it flow. He trusts that you are good enough to do your job and he will give you a little note here and there. I think he has done a great job with the acting, the look of it, everything has been thought through and he has really made it into his own film. He's great.