| | |
| --- | --- |
| | British actor Ben Whishaw spoke about his role in Bond's latest adventure and his co-stars with Graham Norton on BBC Radio 2 last week... |
Ben Whishaw Talks "Skyfall"
5th July 2012
Ben Whishaw has had a busy year, and the rest of 2012 just keeps getting busier. The 31-year-old British actor has been speaking to the media recently to promote the feature-length TV adaption of Shakespeare's "Richard II", with Whishaw in the title role.
During the course of these interviews the young actor is inevitably quizzed about his forthcoming role in "Skyfall", in which he plays MI6 technical adviser, "Q". As ever, Whishaw is remaining tight-lipped about the role, but one of the most informative interviews took place on BBC radio last week when he chatted to Graham Norton.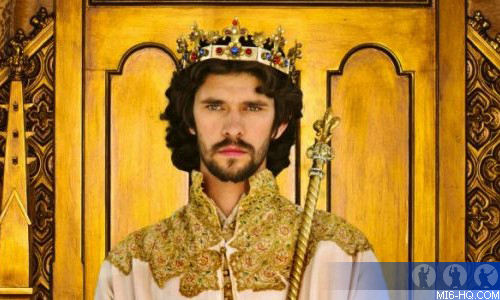 Above: Ben Whishaw in "Richard II".
"The Hollow Crown: Richard II"
"I haven't actually seen it. I saw the first half hour at a screening maybe a month or two ago. And then I saw the last half an hour not so long ago. I am a bit funny about watching myself but I did love making it and I do think that Rupert Goold has done an amazing job of making it accessible really. And telling the story in a really kind of exciting and open way. It's very faithful to the play, it absolutely preserves the structure and the language."
"Skyfall"
GN: Bond... that's going to change your life isn't it?
BW: Well, you know, there were actually quite a few people down there as I came in the door today when I came in with lots of pictures of me and "Skyfall" and stuff, so yeah, maybe it will. People always say, "oh this is going to change things for you" but it never happened. Maybe now it will.
GN: I think Bond is one of those weird things. I remember when I worked in restaurants overhearing a conversation with some people and they were talking about Roger Moore and apparently he'd been a bit odd with someone and they were saying, "you can't understand what its like to be James Bond". You know you walk into a restaurant in Timbuktu and they know who you are.
BW: Yeah, I guess that's absolutely true. I've been amazed by the following that Q has as well. He's a really adored character, you know. Even though he only pops up fairly briefly.
GN: Yes, but we always look forward to the scene with Q to see what he's got. Have you got some good stuff?
BW: I can't say.
GN: Terrible things! Really rubbish things. "This is a match... ugh, if you're cold."
"Peter and Alice"
"I can't wait to do that play. It's a new play about the people who inspired Lewis Carol and J.M. Barry to write the stories Peter Pan and Alice and Wonderland, and these two people meet in a book shop. It's me and Judi Dench and its sort of a conversation piece really. I can't wait to work with her. It will be unbelievable."