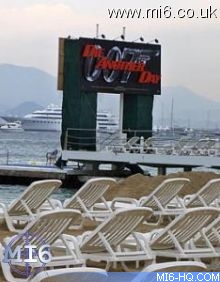 The Die Another Day logo on the sea front at Cannes
Brosnan was staying at a luxurious hotel in Cap d'Antibes, a location not far flung from the world of on-screen 007.
"It's the women, the gadgets, the sex, the romance, the fantasy world, the ultimate hero."
"It is an interesting character to live with because he precedes you wherever you go in the world. You are internationally known. It makes travelling very easy,"
A few reporters have recently took a pop at Brosnan, who turned 49 on May 16th, claiming he was getting too old for the role. "You have to give 100 percent every time whether it's your first time or your fourth."