| | |
| --- | --- |
| | MI6 reports from the 2008 UK Toy Fair and unveils exclusive details on new James Bond model cars to be released by Corgi, including "Quantum of Solace"... |
New Corgi Cars 2008
3rd February 2008
MI6 attended the 2008 UK Toy Fair earlier this week to witness the unveiling of a new line of James Bond products by long-time licensee Corgi. The company will continue its strong tradition of producing highly collectible scale model die-cast vehicles, and has expanded its 007 line this year with exciting new items.

New Corgi Action Figures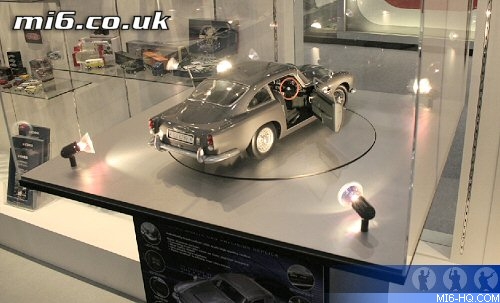 Above: The unique 1:18th scale Aston Martin DB5 by Corgi
Aston Martin DB5
Corgi unveiled a production model of an Aston Martin DB5, first made famous in the 1964 James Bond film "Goldfinger". The one-off model, which was hand made, was put on show to gauge interest from the Toy Fair audience. Feedback was extremely positive. If production goes ahead on the car, it will retail for approximately £2,500 to £3,000 ($5,000 to $6,000 USD).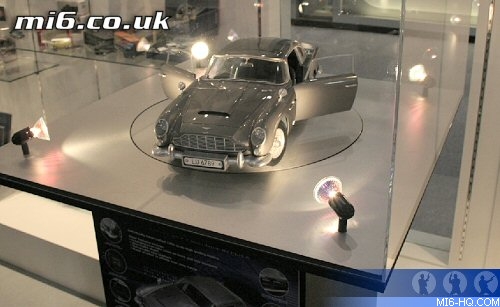 Above: The unique 1:18th scale Aston Martin DB5 by Corgi
"Quantum of Solace" Deluxe Vehicles
Corgi will be issuing a range of 1:18 "deluxe vehicles" based on those featured in the 22nd James Bond film, "Quantum of Solace". The Aston Martin DBS (pictured) will return from "Casino Royale" and will include any updates made by Q-Branch for the new adventure. The models will feature authentic engine & sounds effects and light up headlights. A model based on a speed boat used by 007 in the film is also planned. The models will ship in September 2008 and retail for £24.99 ($50).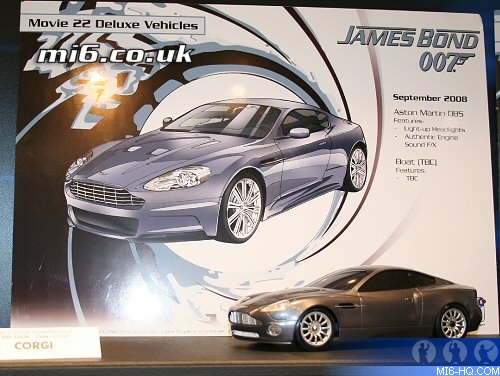 Above: The Aston Martin DBS will return from "Casino Royale"
Classic Bond Radio Control Video Surveillance Vehicle
A 1:16th scale Mobile Surveillance Vehicle will be launched later this year, with "Quantum of Solace" vehicle styling. The model will include a vehicle-mounted video camera that transmits audio/video back to the controller unit. The digital remote control provides precise handling, and includes and audio earpiece for covert listening. The car displayed at the show was a prototype (pictured below). The retail model will be based on the Aston Martin DBS (as depicted in the stand graphics). Also expected to launch in September 2008, the surveillance vehicle will retail for £139.99 ($280).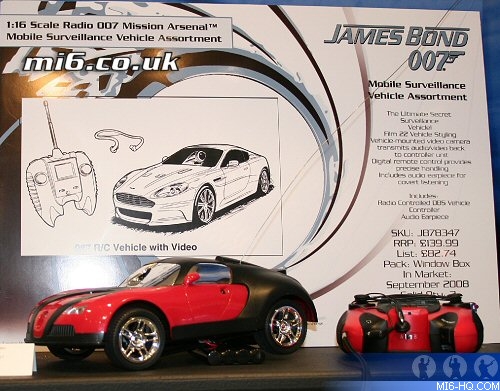 Above: A prototype "surveillance vehicle". The final product will be based on the DBS
1:16th Scale Radio Controlled Aston Martin DBS
Corgi will also be issuing a radio controlled 1:16th scale Aston Martin DBS from "Quantum of Solace". The model will come complete with controller, charger and a battery which is claimed to run for at least 30 minutes. For the first time in Bond collecting history, the new 1:16th model car will also come complete with a James Bond action figure, from Corgi's new range.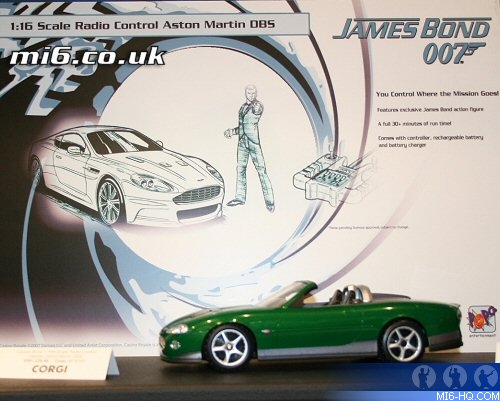 Above: On display was the Jaguar XKR from "Die Another Day" released in 2002
Audio Auto's 1:36th Scale
Rounding out the Corgi line-up for 2008 will be a relaunch of the popular 1:36th scale die-cast models -with a twist. These meticulously detailed die-cast models will also play the theme song associated with the films. Sure to have Bond fans and die-cast collectors shaken and stirred. The first wave of models will include: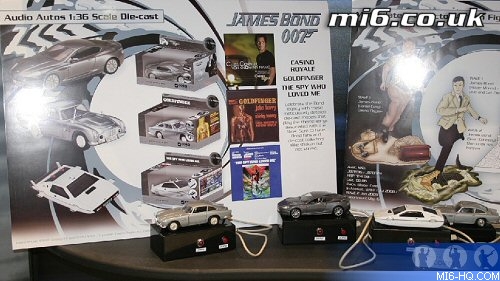 Above: A range of 1:36th scale cars will play the famous Bond theme songs
Licence Renewed
Back in August 2007, Corgi International Limited announced that it entered into a Master Toy & Collectible Replica agreement with EON Productions. The agreement for the James Bond classic movie archive runs through 2010 and includes the forthcoming 22nd James Bond movie due for release in 2008 and subsequent movies released during the course of the term. This worldwide agreement will allow Corgi International to release both mass market product ranges as well as core collectibles on innovative product lines that include, Action Figures, Vehicles, Electronic Roleplay, Die Cast, High Specification Remote Control released under the Popco brand and High end Replicas released under the world renowned Master Replicas branding, amongst other items in varying scales and formats.
Corgi International CEO Michael Cookson commented, "Corgi has had a long association with the James Bond license, and as a licensee for over 40 years on Die Cast, we truly believe that we have reached an agreement where we can use our expertise in both the mass and collectibles markets to release products to a fan base that is both core and aspirational, something that most people believe James Bond to be. Our product range will commence before the movie release in 2008 with classic movie product and replicas and continue with some strong and innovative mass market lines, and we are proud to continue our association with such a franchise."
Keith Snelgrove, SVP Global Business Strategy for EON Productions, also commented "We pride ourselves in the long-standing business relationships we have with many of our James Bond franchise partners. Corgi has been with us since the beginning, and we are excited to see the new range of both toys and prop replicas that Corgi International will bring to market in conjunction with our next film and beyond."
Related Articles

New Corgi Action Figures

Corgi Signs 007 Until 2010

Corgi 2007 Collectors Sets

Corgi Celebrates 007 Million Record