| | |
| --- | --- |
| | Corgi extend their James Bond licence until 2010 for new model vehicles and replica props from Bond 22 and beyond... |
Corgi Signs 007 Until 2010
22nd August 2007
Corgi International Limited today announced that it has entered into a Master Toy & Collectible Replica agreement with EON Productions. The agreement for the James Bond classic movie archive runs through 2010 and includes the forthcoming 22nd James Bond movie due for release in 2008 and subsequent movies released during the course of the term.

This worldwide agreement will allow Corgi International to release both mass market product ranges as well as core collectibles on innovative product lines that include, Action Figures, Vehicles, Electronic Roleplay, Die Cast, High Specification Remote Control released under the Popco brand and High end Replicas released under the world renowned Master Replicas branding, amongst other items in varying scales and formats.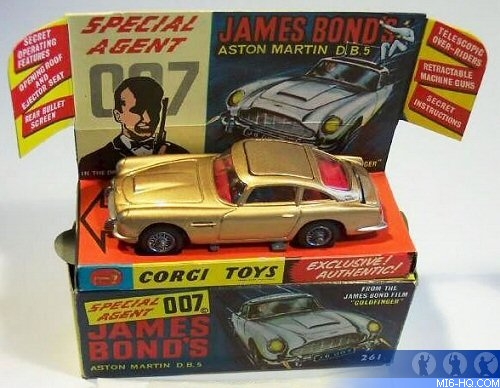 Above: Corgi's first 007-licenced product was the James Bond Aston Martin DB5 first issued in 1965. It features a rear bulletproof shield this springs up into position from the rear boot lid, an ejector seat that fires the passenger through the opening sunroof and machine guns that emerge from the front indicators. The model also came with a Secret Instructions envelope containing a spare ejector seat baddie, secret instructions leaflets and a 007 lapel badge.
Corgi International CEO Michael Cookson commented, "Corgi has had a long association with the James Bond license, and as a licensee for over 40 years on Die Cast, we truly believe that we have reached an agreement where we can use our expertise in both the mass and collectibles markets to release products to a fan base that is both core and aspirational, something that most people believe James Bond to be. Our product range will commence before the movie release in 2008 with classic movie product and replicas and continue with some strong and innovative mass market lines, and we are proud to continue our association with such a franchise."

Keith Snelgrove, SVP Global Business Strategy for EON Productions, also commented "We pride ourselves in the long-standing business relationships we have with many of our James Bond franchise partners. Corgi has been with us since the beginning, and we are excited to see the new range of both toys and prop replicas that Corgi International will bring to market in conjunction with our next film and beyond."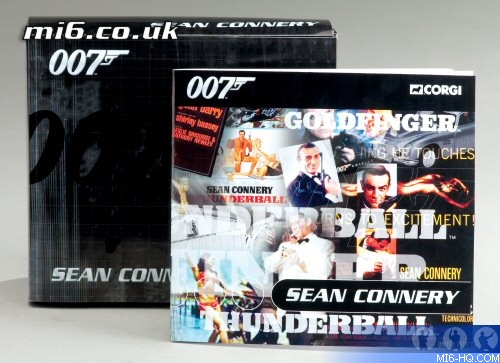 Related Articles

Corgi 2007 Preview