| | |
| --- | --- |
| | The original buzzsaw Rolex watch from "Live And Let Die" is going up for auction next month.. |
Buzzsaw Rolex Auction
15th October 2011
James Bond's buzzsaw watch from "Live And Let Die" is going up for auction next month and is expected to sell for at least a quarter of a million dollars.
Designed by art director Syd Cain, the watch is one of the exceedingly rare timepieces modified to be used in a film. It has been specifically adapted for the buzz saw feature by cutting the bezel's edges into sharp teeth and modified in order for it to rise to maximum height before spinning.

In Syd Cain's original design, the buzz saw is activated by compressed air blown through a tube onto specially constructed vanes, causing the bezel to rise and rotate.

James Bond used the saw feature with dramatic results in one of the movie's most exciting sequences when cutting through the rope and escaping with Solitaire from the hoist in Kananga's lair just before the villain's plans to feed them to the sharks could be carried out.

The magnetic feature was similarly used to full effect by Bond in his final confrontation with Dr. Kananga. It also provided some of the movies' more humorous moments when Bond, at the beginning of the film, uses it to unzip Miss Caruso's dress. Her remark about the delicacy of his touch gave rise to 007's typically sardonic response "see magnetism, darling."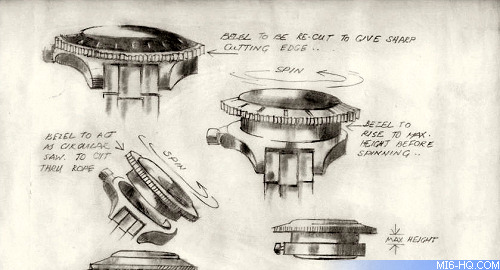 Auction Lot Description
Movement removed to allow customisation, black dial, luminous baton and dot numerals, luminous mercedes-style hands, tonneau-shaped case with calibrated rotating black bezel with saw-tooth edge, modified screw back, the inside case back signed Roger Moore 007, screw down crown, stainless steel Rolex Oyster expandable bracelet with deployant clasp stamped 7-72, a small hole in the end links used to attach an invisible wire to unzip Miss Caruso's dress. Case and dial signed. 39mm diameter.
The auction also includes Syd Cain's original production drawing showing the functioning of the different features.
Expected price: $230,000 - $450,000
The 'Important Watches' auction will take place at Christie's Geneva on Monday 14th November 2011.
Proceeds from the sale will benefit Sir Roger Moore's charity UNICEF.