| | |
| --- | --- |
| | MI6 Confidential talked to "Skyfall" stunt coordinator Gary Powell about the fantastic new pre-titles sequence... |
Old Friends, New Antics
3rd September 2012
Gary Powell returns to the Bond franchise for his third film as stunt coordinator. Previously, Powell served as a double for Pierce Brosnan on "The World Is Not Enough" and "Tomorrow Never Dies". Powell was born into a family of stuntmen and performed his first stunt at the age of 11 in one of the Carry On films. Working his way through the ranks to Stunt Coordinator, his other credits include: "Titanic", "Braveheart", "Saving Private Ryan", "Terminator 3", "Alexander", "The Legend of Zorro", "Bourne Ultimatum", Spielberg's "Indiana Jones and the Kingdom of the Crystal Skull", and most recently, "The Green Lantern" and soon to be released "47 Ronin".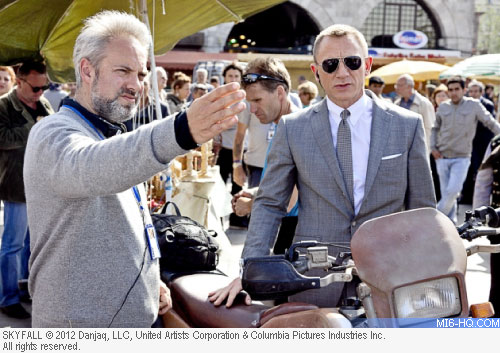 Above: Sam Mendes directs Daniel Craig for the pre-title sequence on location in Turkey.
As coordinator on all three of Daniel Craig's 007 adventures, Powell now has a great working relationship with the English actor. "He knows what he's talking about. As for the physical side of it, he comes in very ready," Powell told MI6 Confidential. Powell is also united with his friend and second-unit director Alexander Witt from "Casino Royale", of whom Powell tells: "We obviously worked really well on "Casino Royale", so to do it again for this one made life a lot easier."
With a veteran crew established, it was important that this 22nd 007 signature pre-titles sequence appear fresh and interesting. The screenwriters had scripted a fight on top of the racing goods train, but Gary Powell contributed a few of his own suggestions to make the opening action sequence - set in Turkey - a winner. "We've got Bond going across the rooftops on a motorbike, which is something we've never seen before. On the train, not only does he run across and have a fight across the train, which has been done before plenty of times, but also we have this huge digger there that he starts driving."

"You have to commit to a body of work. It's not like a nine-to-five job where you can decide partway through a week you need a day off." - Gary Powell on the length of the 'Skyfall' shoot.
Read the complete interview with Gary Powell about his involvement in the 23rd James Bond adventure, "Skyfall" and staging the fantastic pre-titles sequence in MI6 Confidential Issue #17 - now shipping around the world.
To order online, visit www.mi6confidential.com