| | |
| --- | --- |
| | MI6 reviews the recently reissued graphic novel "James Bond 007: On Her Majesty's Secret Service" from Titan Books written by written by Ian Fleming, Henry Gammidge and John McLusky. |
"James Bond 007: On Her Majesty's Secret Service" Review
3rd June 2005
In Titan's third book in their reissued run of classic James Bond newspaper strips, "On Her Majesty's Secret Service" is made up of two adventures, As well as the titular "On Her Majesty's Secret Service", the volume contains the follow-on story "You Only Live Twice". Bringing 007 daily to the public in this timeless form meant the strips saw Bond fighting his foes in three panels - and on the odd occasion two. Due to the unique structured of the comic strip format, each cell had to be carefully crafted to clearly communicate location, plot and character development to the reader.

"The success of any film rests with the writing. With "On Her Majesty's Secret Service" we certainly had the strongest and best of the books" - George Lazenby 2004"


Above: Cell from "On Her Majesty's Secret Service"
Features
Her Majesty's Secret Servant - Introduction by George Lazenby
The one-time 007 looks back at the filming of the movie in which Bond holds his dead wife in his arms. Lazenby recalls how he reached that level of emotion for the scene, and director Peter Hunt's comments. Surprisingly there is no reference to the strips, however Lazenby shows a deep respect for Fleming's literary works.
Bond in Books – Part 3 From Dr No to For Your Eyes Only
Paul Simpson continues his exploration of Fleming's literary works. Part three looks at Fleming's continuing struggle to bring James Bond to both the silver screen and television with the problems and negativity he encountered from the press. He also explores how the character Goldfinger was nearly renamed Goldprick. Simpson concludes on a positive note with the meeting of Fleming and McClory and their plans to write an original film rather than adopt a novel into a screen treatment.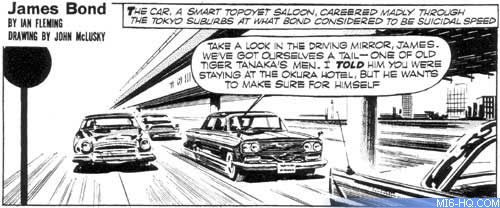 On Her Majesty's Secret Service - Graphic Novel
The longest of all the adapted stories, "On Her Majesty's Secret Service" ran nearly a full year from 29th June1964 to 17th May 1965. McLusky adapted his Bond's look slightly, to reflect Sean Connery after James Bond's cinematic success. The strip is extremely close to the Fleming's original novel with only a few tweaks to tighten the story. The quality of the strips is moderate to high with crisp lines, however the shading in some of the strips is poor and can result in a little confusion.

Above: Cell from "You Only Live Twice"


You Only Live Twice - Graphic Novel
Gammidge has altered the flow of this novel, cutting back on Fleming's prose and certain story points, whilst expanding others. Working with aspects that lead onto his work with "The Man With The Golden Gun" , Gammidge put in place some techniques, but sadly did not go on to work on the project.

McLusky's character depictions are strong throughout out this strip and the Japanese environments are well detailed, and in some cases the Orient oozes from the page.
The Complete James Bond Syndicated Newspaper Checklist - Listing
Rounding off this first reissue is a checklist of every Bond newspaper strip including dates of print and reference numbers in a table format.

Above: Front cover

James Bond will return in 2005 in "The Spy Who Loved Me"...

Summary: Issue three of Titan's republication of James Bond adventures sees both stories from series two: the longest running strip "On Her Majesty's Secret Service", and "You Only Live Twice" by Gammidge and McLusky.

With the mammoth "On Her Majesty's Secret Service" strip there are only two extras of which Simpson's History is the weaker. Lazenby's introduction is insightful but does not reveal anything new for the Bond fan.

MI6 Rating (10 Maximum)

| | |
| --- | --- |
| Adaptation | |
| Artwork | |
| Overall | |



Images courtesy Titan Books and Amazon Associates.