In the early 60's James Bond was everywhere, including national tabloids and broadsheets. Titan Books have republished the original 1987, 80 page classic "The Man with the Golden Gun". These uniquely structured comic strips saw Bond fighting his foes everyday in only then three panels. Each strip was carefully crafted to communicate Location, Plot and Character development to the reader.
Today sees the launch of the revised Jim Lawrence and Yaroslav Horak original graphic novel based on Ian Fleming's 13th Bond novel first published in 1965. The first re-issue boasts new cover art which is a reworked cell from panel 797 of the earlier 1967 adaptation of "The Spy Who Loves Me".
Features
The Spy Who Loved Me - Introduction:
The revised version of the graphic novel is introduced by Fleming's niece, Lucy Fleming, in which she talks about her personal experiences with Fleming with fondness, and tales of sneaking peeks at the novels.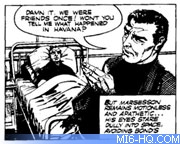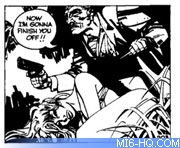 Above: Cells from "The Man with the Golden Gun"