Win copies of Activision's debut 007 videogame title "Quantum of Solace: The Game" in the fourth of MI6's double-oh-seven competitions...

Enter the MI6 competition for your chance to win.
Win "Quantum of Solace: The Game"
8th December 2008
MI6 Competition
Activision are giving away copies of the their first 007 title "Quantum of Solace: The Game" to lucky MI6 readers.
Mission
Enter the world of international espionage with that most famous of agents: James Bond. Based on the Casino Royale and Quantum of Solace films, this hard-hitting game delivers all the intense action and suspense you expect from the Bond franchise. Join 007 for dangerous and deadly intrigue across far-flung locations as you experience high-octane action that leaves you both shaken and stirred.

Combining the intensity of 1st-person shooters with 3rd-person cover combat, Quantum of Solace puts you in control of the fiendishly clever mind of James Bond. Use of all of Bond's deadly skills, including punishing manoeuvres, expert marksmanship, tactical skills and stealth, to overcome dangerous and deadly foes. An advanced artificial intelligence makes adversaries react in intelligent ways, so you have to stay sharp and alert. Take on thrilling missions in exotic lands and interact with characters from both Casino Royale and Quantum of Solace. Smile at danger as only Bond can, and neutralize enemies with the cool efficiency of a "00" operative.


Above: PlayStation 3 artwork

Order Online (All Platforms)

"Quantum of Solace: The Game" Review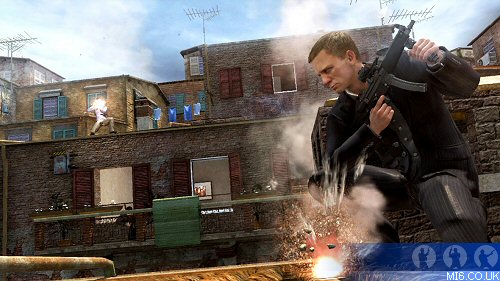 Win "Quantum of Solace: The Game"
Activision UK are kindly giving away copies of "Quantum of Solace: The Game" to lucky MI6 readers. To be in with a chance of winning, simply answer the question below along with you name, city, country and preferred videogame platform in an email to
Treyarch, Eurocom, Vicarious Visions and which other studio developed "Quantum of Solace: The Game"?
Terms & Conditions
The competition closes at midnight GMT on 8th January 2009. MI6 will choose the winners at random from the correct answers received. The winners will be contacted via the email address supplied and their postal address will be requested. If a winner fails to respond within 7 days of prize notification, another winner will be chosen until all prizes are allotted. Competition is open to UK based MI6 readers.
Related Articles

"Quantum of Solace: The Game" Review

"Quantum of Solace: The Game" Coverage