| | |
| --- | --- |
| | In a rare press interview, Timothy Dalton talks about the James Bond series and pushes for 'Skyfall' and the 007 franchise to receive Oscar glory... |
Give 007 Oscar Glory
2nd January 2013
Timothy Dalton has talked before about the direction his incarnation of 007 took and how it may have laid the foundation for Daniel Craig's grittier take on the role, and now the former James Bond actor is heaping even more praise on the latest era and especially "Skyfall".
Talking to the Sunday Express this week, Dalton said it was time for the Academy Awards, an organisation that has typically snubbed Bond movies, to recognise the franchise in its 50th anniversary year and for the critically acclaimed 23rd film "Skyfall".
"It is absolutely time for Bond to get proper attention at the Oscars," Dalton said. "On almost every level this Bond movie is right at the forefront of what cinema is capable of. It is an absolutely modern James Bond, a movie truly of its time. Daniel Craig is fantastic and it feels very real. It has also got a great story about M with a nice streak of cynicism. I thought the film was fabulous."

Back in 1982, producer Albert R. 'Cubby' Broccoli was awarded the prestigious Irving Thalberg Memorial Award for career achievement at the 54th Academy Awards. Many consider it an 'honorary Oscar', but Dalton feels that is time that the family get further recognition for their contribution to cinema and keeping the 007 series fresh and exciting for 50 years (Barbara Broccoli and step brother Michael G. Wilson now produce the films).

"It is a remarkable and hugely special achievement," Dalton said. "That family have shepherded Bond for more than half the time of modern cinema history. I think it is amazing and something to be very proud of."
Although it suffered poor results at the box-office back in 1989, Dalton's second and final Bond movie "Licence To Kill" is now viewed favourably by many fans and was perhaps too far ahead of its time. "A lot of people have said Licence To Kill was a forerunner of Bond today and in a sense that is what Cubby and I were trying to do, " Dalton explained. "The Bond movies were becoming pastiches of themselves but they were still successful and people were not ready to embrace a new formula. There was a lot of innate resistance to change."
Seeing 007 bleed and having more realistic violence compared to the Roger Moore era was considered shocking back in the late 80's, but Dalton counters that the Bond movies have always pushed barriers. "They were scandalous when they [first] came out. That you could have a hero who would kill a person in cold blood! Even the fact of the beautiful, gorgeous Ursula Andress coming out of the water in a bikini was shocking. These were not movies for children and that is almost what they became at a certain time."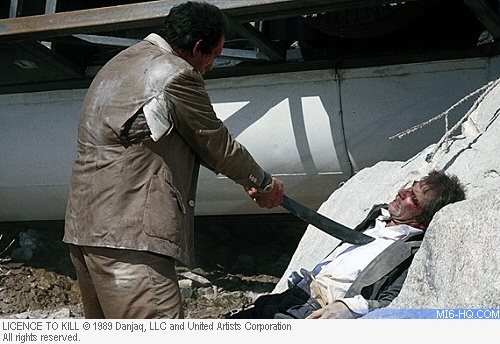 Above: Dalton's 007 (right) faces off against Sanchez in the climax of "Licence To Kill"
Dalton does not court a lot of press and interviews about his time as 007 are pretty scare, so it was with much delight that fans saw him take an active role in the 50th anniversary documentary "Everything or Nothing". But Dalton was not entirely pleased with the end result, which focused a lot on the real-life drama and litigation that has weaved its way through the 50 year saga. "To tell you the truth, I wish they had concentrated more on why the movies have lasted 50 years and given more understanding and illumination about the brilliant work that has gone into the makings of those movies and how it has been protected and shepherded by the family, " he said.