| | |
| --- | --- |
| | Rare James Bond screenplay treatments, scripts, artwork, and an original Ian Fleming notebook are up for auction today in Hollywood... |
Bond Items At Auction
31st July 2008
The Profiles In History auction (www.profilesinhistory.com) runs from July 31 to August 1st in California and features more than 1,000 lots. Amongst the cinematic gems are rare James Bond screenplay treatments, scripts, artwork by the late Richard Chopping and an original Ian Fleming notebook. Profiles in History president Joseph Maddelena said: "This sale features over 1,000 unique pieces of Hollywood history, from the silent era to modern sci-fi classics and everything in between. This incredible collection represents a once-in-a-lifetime opportunity to acquire some of the most important visual effects pieces ever created for modern cinema."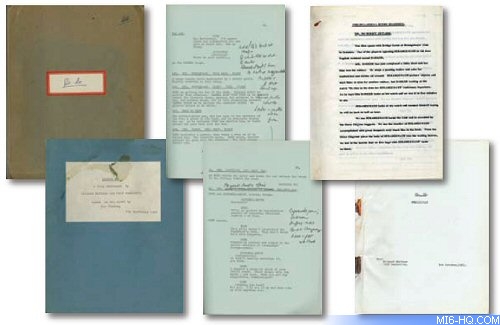 Above: Early screenplay drafts and script outlines for "Dr No".
854. Early screenplay draft, film treatment and script outline for the James Bond movie Dr. No. (United Artists, 1963) Two early film treatments, early screenplay draft, chronological scene sequence and script outline from Dr. No. Written by Richard Maibaum and Wolf Mankowitz. Treatments are 42 and 43 pages, both dated September 7, 1961. Early draft of screenplay is 133 pages, dated October 3, 1961 with revisions dated October 10, 1961 and numerous pencil annotations. Chronological scene sequence and script outline, each 11 pages, undated; location and set changes, 2 pages, dated November 1, 1961. $10,000 – $12,000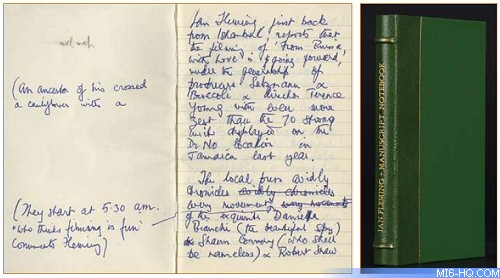 Above: Original Ian Fleming notebook manuscript
857. Ian Fleming autograph manuscript relating to the James Bond movie From Russia with Love. (UA, 1963) Autograph manuscript notebook of seven lined pages in blue ink with numerous revisions, 6 1/4 in. x 4 in., undated (circa 1963), regarding the making of the movie From Russia with Love. Fleming writes a humorous report about himself pretending to do a news story. He writes [in part]: "Ian Fleming, just back from Istanbul, reports that the filming of From Russia with Love is going forward, under the generalship of producers Salzman and Broccoli & director Terence Young with even more zest than the 70 strong unit displayed on the Dr. No location in Jamaica last year…Fleming's official business was to unravel a snarl in the script, but his secret purpose was to make sure that the rats & bats in his book got into the film…He thinks From Russia with Love, due here in the autumn, will be even better than Dr. No, which has been breaking records all round the world…& which opened to capacity business in America on Monday…Meanwhile the typescript of the next James Bond is on the way to Jonathan Cape – setting Japan. Title – You Only Live Twice…" Housed in a custom half-morocco clamshell slipcase. $40,000 – $60,000
859. Richard Chopping original signed artwork for Ian Fleming's James Bond novel, Goldfinger. Color separation artwork for Ian Fleming's Goldfinger (1959), undated, 17½ in. x 22 in., signed along the lower margin in pencil, "Richard W. Chopping". $1,000 - $1,500

865. Richard Chopping's signed treatments for Octopussy & The Living Daylights. Screen treatments for Octopussy, 46pp., and The Living Daylights, 35pp Quarto, stapled sheets.

Each inscribed by Richard Chopping in black ink along the lower margins, "sent to me by Jonathan Cape before designing the jacket for Octopussy, Richard Chopping." Undated, circa 1965. In fine condition. Housed in custom cloth clamshell slipcase. $5,000 – $7,000

Left: Colour separation of "Goldfinger" cover artwork by Richard Chopping
| | | |
| --- | --- | --- |
| 866. Richard Chopping's signed personal copy of Octopussy and The Living Daylights with original drawing of seashell for dust jacket and seashell model. Octopussy and The Living Daylights, by Ian Fleming, published by Jonathan Cape (1966). First edition. Signed twice by Richard Chopping on the front flyleaf as well as the rear dust jacket flap below his credit. A fine copy in fine jacket. Housed in a custom green morocco and marbled paper clamshell slipcase. Includes the original pencil drawing of the seashell used for the jacket illustration. Approximately 11 in. x 15 in, with hand annotation by Chopping along the lower margin, "Original drawing of shell for 'Octopussy', Richard Chopping." Also includes the original seashell which served as the model measuring 4 in. x 3 in. In fine condition. $15,000 – $20,000 | | |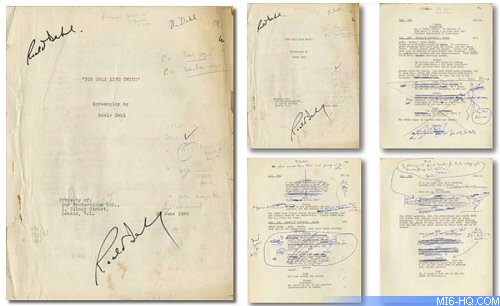 Above: Roald Dahl's original manuscript for "You Only Live Twice"
864. Roald Dahl original working manuscript of his James Bond screenplay, You Only Live Twice. Working manuscript of Roald Dahl's screenplay for You Only Live Twice, dated June 17, 1966 [with inserted revisions dated August 9 and 21], approximately 240 pages, Quarto, signed twice on the title page in black ink by Roald Dahl. Extensive annotations and corrections on nearly every page in Dahl's hand including dialogue and directorial changes. Material relating to Dahl's only James Bond screenplay is exceedingly rare. Small chips and light toning to title page, otherwise fine condition. $25,000 – $35,000.
Related Articles

Collecting