| | |
| --- | --- |
| | The Museum of Bond Vehicles + Espionage debuted its plans and design today in Illinois, USA... |
Bond Vehicle Museum Plans Unveiled
26th July 2010
The Museum of Bond Vehicles + Espionage debuted its plans and design to the media and public today in Momence, Illinois, USA. It will host the exclusive collection of the Ian Fleming Foundation, including the world's largest collection of vehicles used in James Bond films. Slated to open in 2012, the 50th anniversary of the first Bond movie, Dr. No, the Gensler-designed museum is a partnership between the Ian Fleming Foundation, the Kankakee County Museum, and the City of Momence, Illinois.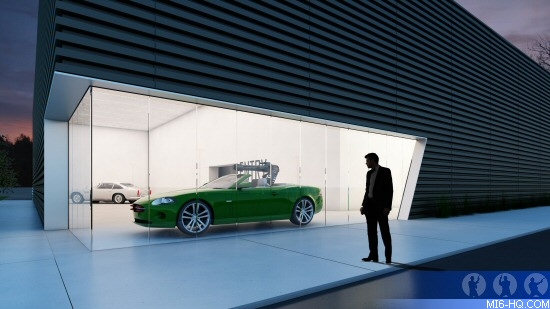 In addition to showcasing an unparalleled collection of Bond vehicles, the museum will also feature cultural artifacts of espionage. Exhibits will explore contemporary culture's impact on the Bond films and conversely, Bond's influence on popular culture. With projections of 20,000 visitors per year, the museum hopes to catalyze development in Momence, Illinois, a historic "border town" located 50 miles south of Chicago. Today, Momence's architecturally significant Main Street has been abandoned. "The museum's design acts as a deceptive double agent," says Gensler Design Director Brian Vitale. "On the surface, the museum appears to showcase a world-class collection of James Bond vehicles and the culture that surrounds them. But its real mission is to become a powerful catalyst for the revitalization of a once-vibrant city."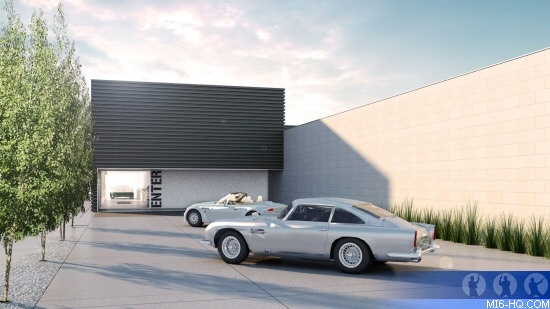 With a limited budget, the need for a single impactful element was critical. The result is the "007" window (named so because the window's angled jamb resembles a "7"), located at the building's prominent corner. The window provides the museum with exhibit display, signage and an iconic image that will provide a backdrop for thousands of tourist photographs every year. Vitale explains: "The remainder of the building is clad in black horizontal corrugated metal. It's a mysterious silhouette that reveals very little of the museum's content, much like James Bond, himself."
The Ian Fleming Foundation's permanent collection includes the Lotus Submarine Car used in The Spy Who Loved Me, the Aston Martin Volante seen in The Living Daylights, Bond's BMW R 1200 C Motorcycle used in Tomorrow Never Dies, and the Bomabardier Rev 800 MXZ Ski-Doos from Die Another Day, among many others.
Doug Redinous, President of the Ian Fleming Foundation, explained the wider rationale behind the museum to MI6. "Our goal of creating a museum where people can come to learn not only about Bond, but Ian Fleming, espionage, and the spy world in general", he said. "We hope to enlighten people about how Fleming helped to create the modern day CIA, and how that leads to his writing the Bond novels. Our plan is to touch upon all aspects of the spy world and showcase the interesting artifacts from a once barely seen world. We also hope to showcase the archive of the Ian Fleming Foundation which includes posters, manuscripts, books and of course Bond vehicles from the films."
The museum is now entering its fund-raising stage to get the site cleared, building remodeled, and ready for occupancy in time for the 50th anniversary. To learn more about the project, visit www.Bondvehiclemuseum.com