The BFI and EON Productions are excited to announce a very special season of films and events to mark the centenary of Albert R 'Cubby' Broccoli...

Update 03/04/09: Bond @ IMAX season announced for May...
Update 09/04/09: May programme confirmed with 17 Bond films...
Broccoli Season At BFI
18th February 2009 / 3rd April 2009 / 9th April 2009
Press Release - The BFI and EON Productions are excited to announce a very special season of films and events to mark the centenary of Albert R 'Cubby' Broccoli – the man who brought Bond to the big screen.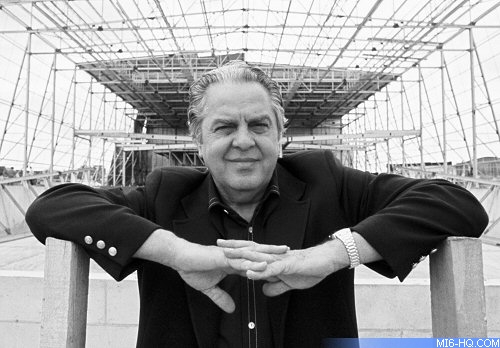 Above: Albert R. 'Cubby' Broccoli standing in front of the 007 Stage during construction for
"The Spy Who Loved Me". Image 1996-98 AccuSoft Inc.
Albert R. Broccoli (1909-1996) also known as 'Cubby' was the driving force behind bringing James Bond to the big screen. Born into an Italian-American family, Broccoli's early career in Hollywood started as an assistant director on a Howard Hughes picture, The Outlaw, directed by Howard Hawkes. In 1952 Broccoli started his producing career when he came to England and launched Warwick Films with Irving Allen. Broccoli's interest in Ian Fleming's "Bond" stories, led him to Canadian producer, Harry Saltzman. Together they formed EON Productions and in 1962 produced the first James Bond film, DR NO (1962). When Harry Saltzman sold his share to United Artists in 1977, Broccoli continued as the "man behind Bond" producing a further seven films before passing the torch on to his stepson Michael G. Wilson and daughter, Barbara Broccoli.
To celebrate this legacy, and the impact of the franchise on film culture, BFI Southbank will present a dazzling retrospective of Broccoli's work in April and May 2009. Bond films must be seen as they were originally intended, on the big screen, and all James Bonds will be represented.
| | | |
| --- | --- | --- |
| Highlights of the season will include the re-release of From Russia With Love (1963) and masterclasses in Bond led by key film talent. Exclusive exhibitions from EON and BFI archives will present the look of Bond, and with 'Bond school' in the Easter holidays, we will revisit the style, music and history of the world's favourite secret agent. In addition, there will be a BFI Weekender including events, Q&A's and games to entice anyone along for a shaken not stirred weekend of merriment. There will also be exciting events for younger Bond fans and a special Family Funday (did you know that Broccoli also brought us that childhood classic Chitty Chitty Bang Bang?). | | Above: Ken Adam, Cubby Broccoli and Lewis Gilbert on location. Image credit British Film Institute. |
And this is just the beginning of our mission...
---
APRIL PROGRAMME
From Russia With Love – EXTENDED RUN (Digital print)
Fri 24 April – Thur 7 May
Broccoli considered From Russia With Love (1963) as one of the best Fleming stories. Connery once again excelled and was well supported by a great cast including Robert Shaw, wonderfully menacing as a brutal killer; and Lotte Lenya as Russian SPECTRE agent Rosa Klebb, with the famous poison-tipped knife device in her shoe. The film also features many distinctive Bond motifs for the first time (a pre-credit sequence; iconic main titles; John Barry's first score and a sweeping theme song; Desmond Llewelyn as Q, etc) and its huge success firmly established the 007 films as a cultural phenomenon.
UK 1963. Dir Terence Young. With Sean Connery, Robert Shaw, Lotte Lenya 115min. PG.
Courtesy of Park Circus Films
Dr No
Sean Connery was cast in the lead role and the film featured the usual Broccoli touch of exotic locations: this time Jamaica and surrounding waters, from which a bikini-clad Andress memorably emerged.
UK 1962. Dir Terence Young. With Sean Connery, Ursula Andress, Joseph Wiseman. 105min. PG. New digital restoration
Wed 8 April 19:45 NFT1*; Tue 14 April 11:00 NFT2**; Wed 15 April 18:20 NFT2; Thu 16 April 18:30 NFT1; Sun 19 April 20:50 NFT1. * Introduction by Michael Wilson, ** Parent & Baby screening
Goldfinger
To many, the quintessential Bond film and a brilliant third entry in the series. Here Bond gets his Aston Martin, spars with two statuesque British beauties (Honor Blackman and Shirley Eaton) and pits his wits against a memorable villain, Auric Goldfinger. Add the first Shirley Bassey theme song and some exciting action sequences and the result is an expolsive cocktail.
UK 1964. Dir Guy Hamilton. With Sean Connery, Honor Blackman, Gert Fröbe. 109min. PG.
New digital restoration
Sat 18 April 20:45 NFT1, Sat 25 April 18:15 NFT2, Wed 29 April 14:30 NFT2
Thunderball
While recuperating at a health farm, Bond uncovers a SPECTRE plot to steal nuclear bombs. When the plan succeeds, Bond travels to the Bahamas to face the sinister Emilio Largo and – in an extended underwater sequence – sets out to recover the bombs.
UK 1965. Dir Terence Young. With Sean Connery, Claudine Auger, Adolfo Celi. 130min. PG.
New digital restoration
Sun 19 April 18:00 NFT1, Tue 21 April 18:15 NFT1, Wed 29 April 18:00 NFT1
You Only Live Twice
As the space race heated up in real life, so the Bond franchise looked to the stars with SPECTRE hijacking US spacecraft with a view to inciting a war between Russia and the US. Bond travels to Japan to find the SPECTRE secret base hidden beneath a volcano.
UK 1967. Dir Lewis Gilbert. With Sean Connery, Donald Pleasence, Mie Hama. 116min. PG.
New digital restoration
Wed 22 April 18:20 NFT1, Sat 25 April 20:40 NFT1, Tue 28 April 20:40 NFT2
On Her Majesty's Secret Service
Connery's decision to quit as Bond left Broccoli and Saltzman with a headache. The press went into overdrive speculating on Connery's successor; while the producers chose good-looking Australian actor George Lazenby after successful screen tests.
UK 1969. Dir Peter Hunt. With George Lazenby, Telly Savalas, Diana Rigg. 140min. PG.
New digital restoration
Sun 26 April 15:00, 20:20 NFT1, Wed 29 April 20:20 NFT2
The Red Beret
Broccoli's first producing credit features Alan Ladd as a Canadian who joins the British paratroopers in 1940.
UK 1953. Dir Terence Young. With Alan Ladd, Susan Stephen, Harry Andrews. 88min. U
Fri 10 April 15:50 NFT3, Mon 13 April 18:40 NFT2, Sat 18 April 18:20 NFT2
Hell Below Zero
Ladd plays an adventurer helping a girl (Tetzel) discover the truth about her father's death in the Antarctic.
UK 1953. Dir Mark Robson. With Alan Ladd, Joan Tetzel, Basil Sidney, Stanley Baker. 90min. U
Fri 10 April 18:10 NFT3, Fri 17 April 20:40 NFT2
The Cockleshell Heroes
A fine wartime actioner, shot in semi-documentary style, delivers a well-acted, thoroughly absorbing take on the true story of Colonel 'Blondie' Hasler, who led a team of marines in tiny boats on a mission to destroy German warships. It was shot in Portugal.
UK 1955. Dir José Ferrer. With Trevor Howard, Victor Maddern, Dora Bryan. 97min. U
+ April in Portugal
UK 1955. Dir Euan Lloyd. 20min Travelogue narrated by Trevor Howard.
Sat 11 April 15:50 NFT2, Fri 17 April 18:15 NFT2
Fire Down Below
Allen and Broccoli's Warwick Films were getting a reputation for exotic locations and this time they were in the Caribbean for a tale of two partners in a fishing business falling out over a woman. Broccoli's first encounter with Bernard Lee, later to become a fixture of the Bond films.
UK 1957. Dir Robert Parrish. With Rita Hayworth, Robert Mitchum, Jack Lemmon. 115min. PG
Sat 11 April 18:20 NFT2, Sun 26 April 18:15 NFT2
How to Murder a Rich Uncle
Black comedy about an impoverished baronet and his family who try to solve their financial problems by murdering their rich uncle from Canada. Michael Caine appears in a small role in the film, one for which he had been short-listed with another young actor: Sean Connery.
UK 1957. Dir Nigel Patrick. With Nigel Patrick, Charles Coburn, Katie Johnson 79min. U
Sat 11 April 20:50 NFT2, Mon 13 April 20:40 NFT2, Tue 21 April 20:40 NFT2
The Trials of Oscar Wilde
Suffering financially from the collapse of their own distribution company, Eros, Allen and Broccoli desperately needed this film to be a hit but, despite critical acclaim and British awards, it was banned from cinemas in the US due to it's controversial content.
UK 1960. Dir Ken Hughes. With Peter Finch, Yvonne Mitchell, Nigel Patrick, Lionel Jeffries. 70min
Sun 12 April 15:50 NFT3, Tue 14 April 20:30 NFT3, Thu 16 April 20:40 NFT2
---
Casino Royale
Wildly successful adaptation of Fleming's very first James Bond novel.
Wed 27 May 20:15 NFT1
Sun 31 May 17:40 NFT1
Chitty Chitty Bang Bang
Classic family fun with everybody's favourite flying car.
Sun 3 May 12:30 NFT1
Sat 23 May 12:30 NFT1
Diamonds Are Forever
Sean Connery's final official outing as Bond, James Bond.
Sun 3 May 15:15 NFT2
Tue 5 May 20:30 NFT1
Die Another Day
Pierce Brosnan's last outing as Bond, with in-jokes aplenty.
Tue 26 May 18:00 NFT2
For Your Eyes Only
A more human story to bring Bond back down to Earth after Moonraker.
Sat 9 May 15:20 NFT1
Sat 16 May 20:30 NFT1
From Russia With Love
A terrific Bond thriller that established 007 films as a cultural phenomenon.
24 April - 7 May
GoldenEye
Pierce Brosnan effortlessly guides Bond through this dynamic rebirth.
Sun 24 May 15:40 NFT1
Sat 30 May 17:45 NFT3
Licence to Kill
Bond wages a one-man war against a South American drug baron.
Sat 23 May 20:20 NFT3
Mon 25 May 15:00 NFT2
Live and Let Die
Roger Moore takes over as Bond goes Caribbean.
Sun 3 May 20:45 NFT1
Wed 6 May 20:30 NFT3
The Living Daylights
Timothy Dalton's first Bond is less cavalier but still all-action hero.
Mon 25 May 17:40 NFT1
The Man with the Golden Gun
Bond battles an assassin who charges a million a hit.
Mon 4 May 20:30 NFT1
Fri 8 May 20:20 NFT2
Moonraker
Bond blasts into space to take on another megalomaniac villain.
Mon 11 May 20:30 NFT2
Octopussy
James Bond goes to India in his most colourful adventure yet.
Mon 4 May 17:50 NFT1
Tue 12 May 18:10 NFT2
Fri 15 May 20:20 NFT2
Quantum of Solace
Daniel Craig returns as brutally physical Bond in the latest in the series.
Tue 12 May 11:00 NFT2
Fri 29 May 18:20 NFT1
Sun 31 May 20:45 NFT1
The Spy Who Loved Me
Agent 007 goes head-to-head with Jaws and the sultry Agent XXX.
Fri 8 May 18:10 NFT1
Sun 10 May 20:20 NFT2
Thu 28 May 20:20 NFT1
Tomorrow Never Dies
Sat 2 May 20:40 NFT1
Sun 24 May 20:30 NFT1
Fri 29 May 20:30 NFT2
A View to a Kill
Roger Moore's swansong as Bond takes in Siberia, France and California.
Sat 16 May 15:40 NFT2
Thu 21 May 20:20 NFT1
The World Is Not Enough
Pierce Brosnan's third outing as Bond, opposite Sophie Marceau.
Fri 1 May 20:30 NFT1
Mon 25 May 20:30 NFT2
Sun 31 May 15:00 NFT2
---
MAY IMAX PROGRAMME
See Bond as he should be seen: on the biggest screen in Britain at BFI IMAX - a 485-seat, state-of-the-art, large-format cinema on London's bustling South Bank. The screen is more than 20 metres high (that's nearly the height of five double-decker buses!) and 26 metres wide. With a 11,600-watt digital surround-sound system and the most sophisticated motion-picture projection system in the world, viewers literally feel like they are 'in the picture'. All screenings are digital cinema presentations.Click here to book tickets.
Bond All-Nighter (Dr No, Goldfinger, On Her Majesty's Secret Service, The Spy Who Loved Me)
Sat 25 Apr 23:30 BFI IMAX
Goldfinger
Fri 1 May 21:00 BFI IMAX
Thunderball
Sat 2 May 21:00 BFI IMAX
You Only Live Twice
Sun 3 May 21:00 BFI IMAX
On Her Majesty's Secret Service
Mon 4 May 21:00 BFI IMAX
The Spy Who Loved Me
Tue 5 May 21:00 BFI IMAX
---
The BFI Southbank is open to all. BFI members are entitled to a discount on all tickets. BFI Southbank Box Office tel: 020 7928 3232. Unless otherwise stated tickets are £8.60, concs £6.25 Members pay £1 less on any ticket. Website www.bfi.org.uk/southbank
Related Articles

Albert R. 'Cubby' Broccoli Biography