| | |
| --- | --- |
| | The archive of coveted prototype and "Number One" James Bond vehicles by Corgi are to be auction by Bonhams this week... |
Corgi James Bond 'Number One' Auction
2nd October 2007
Bonhams - the international fine art auctioneers - has been appointed by Corgi - one of the best-known die-cast model makers in the world - to sell its archive of coveted prototype and "Number One" vehicles. The unique auction will take place on 3 October 2007 at Bonhams' Knowle salerooms in Solihull, West Midlands.
Corgi was one of the first companies to produce limited edition toys specifically for collectors. Until now, it has been Corgi's policy to retain the first item off the production line for the archive and it is a selection of these 'Number One's' that Bonhams will sell along with a selection of prototypes used in the manufacturing process, such has hand-painted resin samples and mock-ups.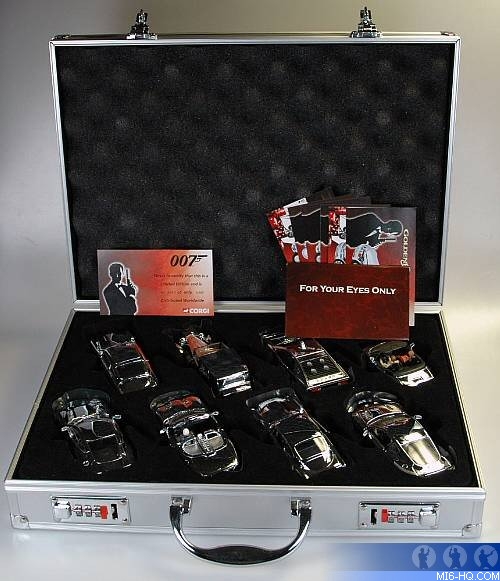 Lot No: 1 - Production Line Number One James Bond Casino Briefcase
A numbered retailer exclusive of just 2520 pieces worldwide. Featuring nine classic 1:36 scale Bond vehicles with a unique chrome finish packed in a 'flight case' style briefcase with embossed James Bond logo and 0001 numbered certificate
With over 500 lots for sale the stars of the auction will be the "Number One" models" and collectors will be given the unprecedented opportunity of bidding for classic archive properties including models relating to: James Bond 007, Star Trek , Batman, The Beatles, The Thunderbirds, Captain Scarlet, The Muppets, Dr Who, Starsky & Hutch, Knightrider, Only Fools & Horses, The Avengers, and Noddy.
Items from Corgi's Aviation ranges, such as Spitfires and The Dam Busters, will be sold too, along with a selection of classic car models, buses and coaches, commercial, haulage, transport and vehicle ranges.
Corgi will also make one very special lot available at Bonhams' auction. The " Corgi Golden One" lot will guarantee the successful bidder the "Number One" model from every Corgi Collector die-cast to be released in 2008, comprising over 350 models delivered direct to their door - all certified as the " Number One" of each release. This is a once-in-a-lifetime opportunity to create a unique collection.
"Corgi has a rich heritage stretching back over 50 years, but this means that our archive has reached pretty sizeable proportions and in order to maintain the archive for the collectors of the future we need to make some room," says Darren Epstein, Executive Vice President of Global Business Development at Corgi International. "We felt there was no better way to make space for the next 50 years than to open up the archive and allow everyone a chance to obtain some of the cherished content. Of course we will be sad to see our 'firstborns' go but we know that they will be going to excellent homes.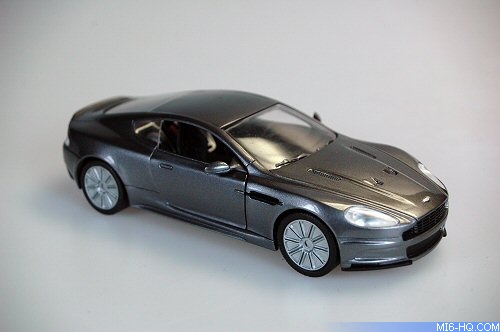 Lot No: 5 - Prototype James Bond Aston Martin DBS resin cast with applied decoration
1:36 scale from the 2006 film 'Casino Royale'
"We are delighted that Bonhams has chosen to recognise the popularity of a contemporary collectible by supporting this auction. Corgi products are very popular with both hardcore and casual collectors of all ages and this auction is an excellent opportunity for anybody to obtain legitimately unique and highly collectable items that have never been made available before."
Related Articles

Corgi 2007 Preview

Corgi Signs 007 Until 2010